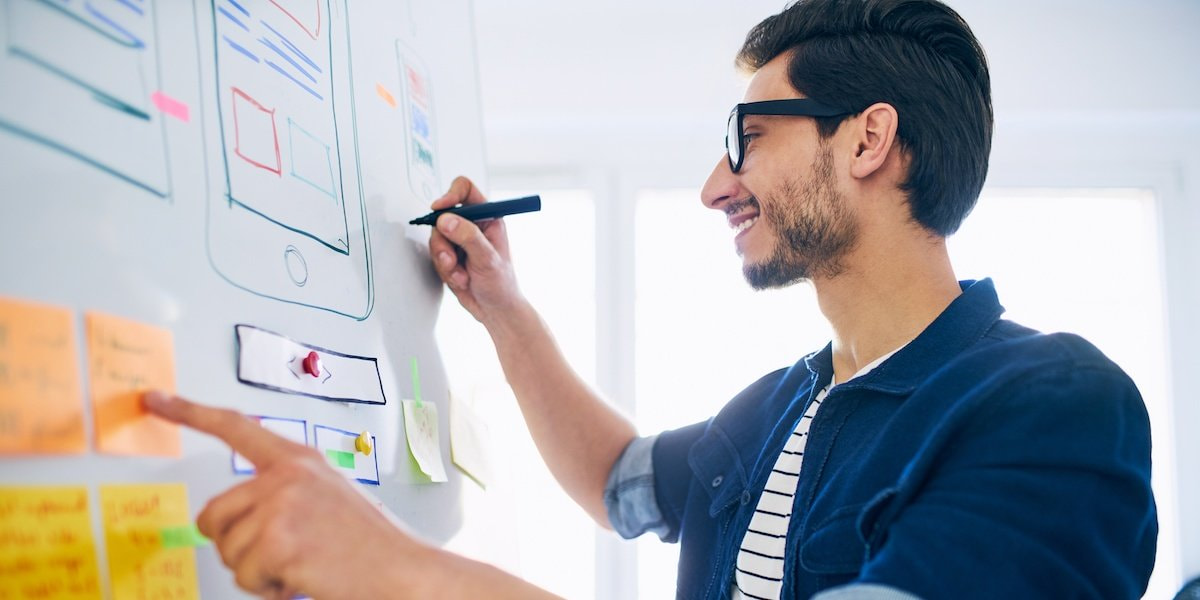 5 tips to improve the UX of your website search tool

Olesya Elfimova
5 mins to read
Improving your site search solution is one of the most underappreciated practices available for optimizing the user experience (UX) of your website – here are 5 tips to help get you started.
Making a purchase online isn't always as easy as it should be and sometimes it even feels like a business is actively trying to stop you from giving them money.
Picture a potential customer browsing your website with a purchasing need that your business satisfies and their credit card at the ready. They're primed to splash some cash, but they can't seem to find what they're looking for.
After a few seconds of scrolling, they uncover a nondescript search bar hidden in the navigation, and, unable to recall the exact product name, type in a rough estimation.
"No results matching your search."
And that's it!
No "Did you mean...", "What about…", or "Showing results for…". No alternative suggestions or similar products displayed – just a resounding NOPE.
It's an experience that'll frustrate even the most patient shoppers, so it's no surprise when potential customers flock to a competitor's website instead.
Maybe that story sounds familiar and reminds you of an online shopping experience you've had? That's because so many websites are getting site search wrong, and, unfortunately, it's likely your organisation isn't the exception to the rule.
Discover how custom search engines optimize search shortfalls and improve UX. Click here to download the free e-book.
It's hardly shocking then that when SAP surveyed B2B purchasers about which features they'd like to see suppliers incorporate, 60% chose enhanced search functionality on websites.
To help, we've put together 5 tips to help you improve UX and create the perfect site search solution for your users:
1. Make sure your search bar stands out
Simply put, if your customers can't find what they're looking for on your website, they should at least be able to quickly recognize how to search for it. If visitors need to actively look for your search bar, your UX isn't up to scratch. 
To put it right, you'll need to design a search bar that stands out from the rest of your website and makes it obvious what the next step is.
Obviously, you shouldn't go over the top. While a bright orange rectangle with cobalt text slapped across it will certainly draw the eye, it probably doesn't give off the first impression you want.
Instead, you should aim to create a search bar that complements your website's current look and feel – while still being obvious at a glance.
2. Intelligent search helps users find the right query
How often do you begin typing one thing into a search bar, only for something much more interesting to pop up among the search suggestions?
Surely we aren't the only ones whose best intentions are consistently thwarted when our search for "tasty recipes" is interrupted by "takeaways nearby" within two keystrokes?
Search suggestions can help increase your business' sales by enticing people into making searches they hadn't planned on. This is often what turns browsers (visitors without a fixed purchasing intent) into buyers.
Adding search suggestions also helps save customers time (always great for UX) and signpost products to visitors who might be struggling to spell or remember exactly what they're looking for.
There are many tools that empower you to tweak the rules of your search suggestion feature and thereby change what is shown to potential customers. This can range from using previous search data, displaying your most popular products or simply suggesting the most likely results based on what's already been entered.
3. Make use of semantic search
As site search becomes more intelligent, it gets better at understanding the intent behind a search, instead of simply reacting to the query itself.
Semantic search is where site search is now. It's the difference between having to search for an exact keyword (for example a brand, a product name, or a color) and receiving useful results by simply searching "cheap dressy shoes".
This is more important than you might think because even at its most basic, semantic search can greatly improve UX by simply understanding synonyms – for example boot instead of shoe.
For some context, research suggests that 70% of ecommerce implementations are currently unable to return relevant results when a synonym is used.
And, as more consumers eschew exact keyword searches in favor of longer and vaguer long-tail phrases, semantic search is becoming ever more vital for UX. Especially when you consider the likely impact of voice search in the future.
To make the most of the opportunity you'll need to enlist the help of a site search solution that empowers you to set up custom synonyms, one example being Site Search 360 Dictionary and Query Mappings. 
4. Remove any dead-ends in the customer journey
Dead ends in the customer journey are literal UX killers, yet they're more frequent than you'd think. In fact, research shows that 34% of ecommerce implementations don't currently return useful results when users mistype just a single character.
And, it's fair to assume that as more errors are made, the chance of there being no useful results also increases. Obviously, this is a huge problem for organizations.
"No results matching your search" isn't far short of slamming a door in users' faces and there's every chance it'll end their customer journey with your organization.
This is especially troublesome when you consider that users searching for an exact product, are likely further down the sales funnel than most other visitors. It makes no sense to stick a dead-end in front of customers because of a misspelling, especially those who're so close to making a purchase.
Instead, you should either use autocomplete to suggest correct spellings before the search is made or ensure your "no results" page delivers information of value to the user – perhaps a list of similar products or alternative queries.
5. Make your results page less overwhelming
When it comes to site search, the very last step of the customer journey is the results page, making it core to whether a user makes a purchase. This means UX has to be perfect to drive conversions, with too many results just as bad as too few.
If users are faced with 1000 results, most don't want to scroll through every option to find the perfect product. Instead, you should be empowering them to arrange the results based on a wide range of factors, like price, color, or the date created.
Your UX will also be greatly affected by your approach towards pagination. Traditionally, simple page numbers have been used when there are more results than can be viewed by visitors without affecting website performance – however this is now considered a slow and cumbersome experience compared to modern user interfaces (UIs). 
Infinite scrolling is a strategy that dynamically loads more content when users reach the end of their results and is fantastic for sites like Pinterest or Instagram. However, ecommerce sites will likely want to draw attention to individual items in order to increase conversion rates.
For this reason, incorporating a "load more" button at the bottom of your displayed results is considered best-practice for both UX and UI.
You can also raise the bar for results pages by ensuring your website search tool enables users to quickly filter out any content irrelevant to their query. Filters can be based on a variety of characteristics, from the type of content (for example, blog posts, product pages, or new stories) to different attributes (for example, size, style, color, or price).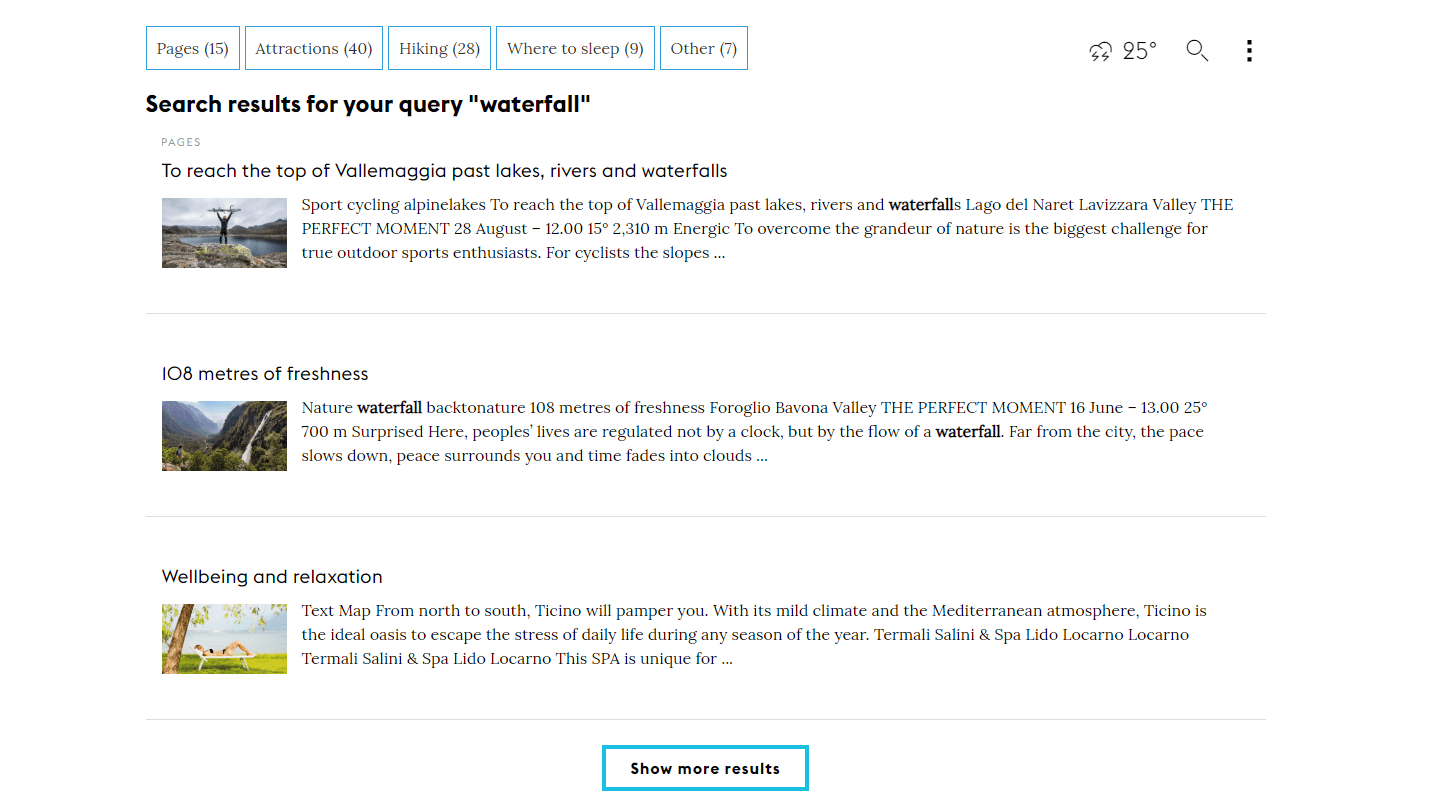 This is also your opportunity to create custom filters that help drive your sales strategies. Going back to our tried and tested example of shoes, creating filters like "perfect for parties", "business brogues", and "first day of school" are a great way of targeting different demographics from inside your site search.
Bonus tip! Provide a breadcrumb trail
When you opened this blog post, you probably didn't expect to get advice from the Brothers Grimm, did you? However, it seems Hansel and Gretel might actually have been the first digital marketing guidebook because, when it comes to website design, including a breadcrumb trail in your site search results can greatly improve site search UX.
As we previously pointed out, navigating thousands of results isn't always the best experience for potential customers. Filters are a great way to empower visitors to drill down into your offerings but what happens when they've exhausted a sub-category?
A breadcrumb trail is essentially a mini navigation that sits somewhere inside your search results page, and, including one makes it easy for users to go back a couple of steps in a single click.
TL:DR
Improving the UX of your website search tool is extremely underutilized when it comes to website optimization. Sadly, the only time most organizations think about site search is when they're first implementing their solution.
In fact, many businesses aren't necessarily aware of all the functionality available from their site search solution, let alone how site search can be used to boost UX or increase accessibility.
By simply designing a more noticeable search bar for example, you don't just improve the look and feel of your website, you also make it easier for visitors to take the next step of the customer journey.
Then there are more complex site search features, such as adding intelligent search suggestions or empowering visitors to filter query results. These make it easier for potential customers to find exactly what they're looking for and remove potential barriers to purchase – in these examples, reaching a dead-end because of a misspelling and finding an overwhelming number of results.
Try our Search Designer and discover for yourself how Site Search 360 can transform your on-site search engine.
Want to find out more about how to get the best site search experience for your website? Check out our free introduction guide below!