Meaningful search,
meaningful results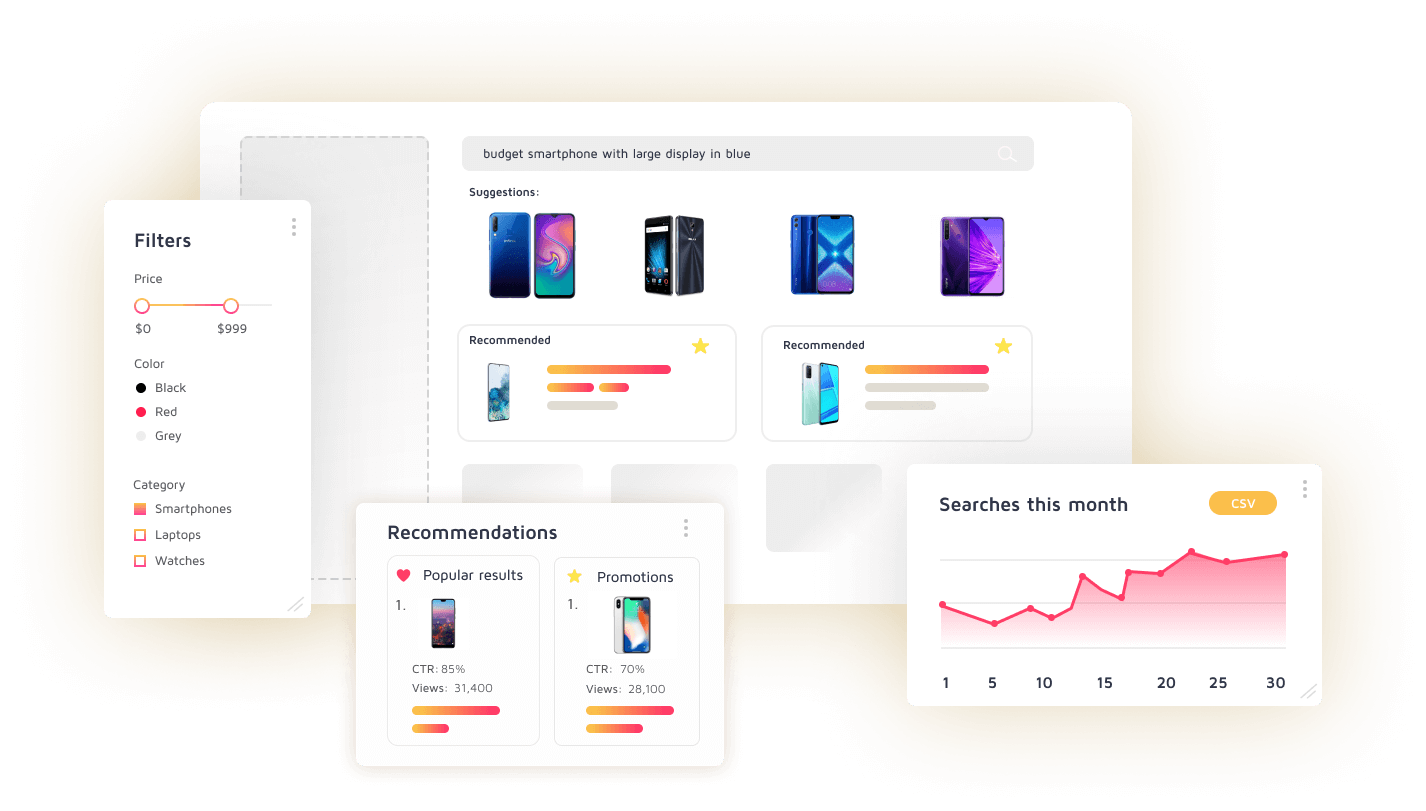 The key to a smart e-commerce search
Site Search 360 e-commerce search is based on a multidimensional and infinitely adaptable ontology that contains all relations, logical connections, and metadata – everything that's relevant.
We analyze, structure, and augment your data to deliver the most accurate results.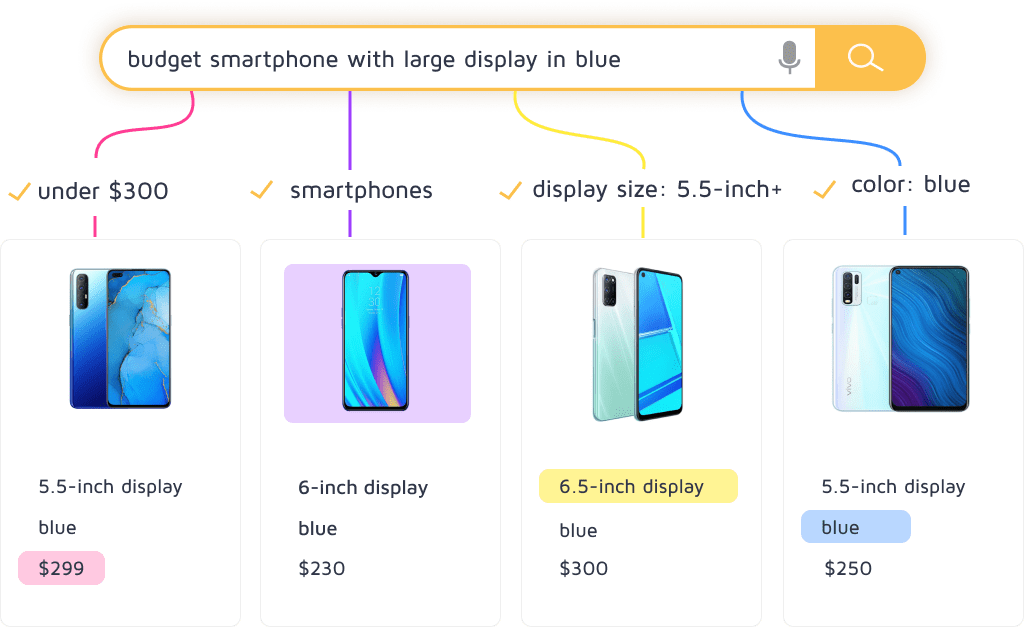 Elevate your search today
Search that knows what you mean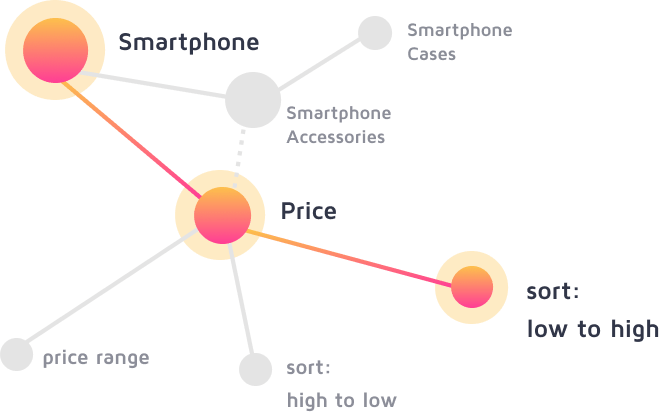 Search that knows you're human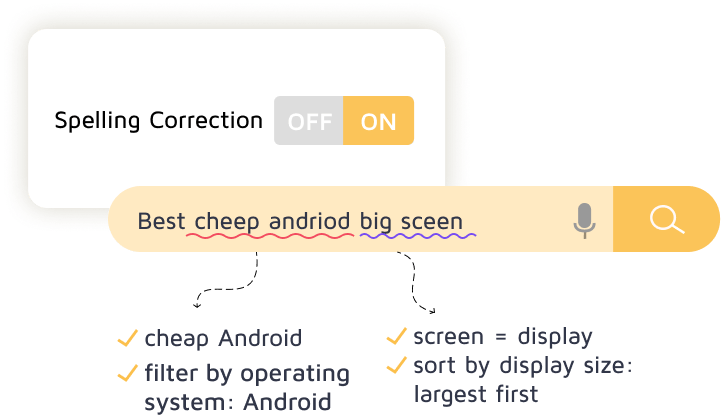 Search that does the math for you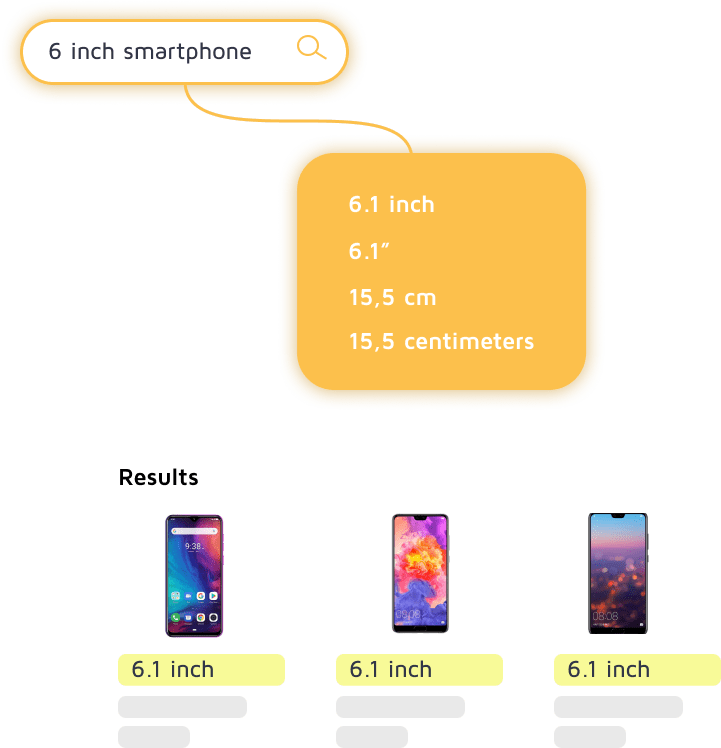 Integration
JavaScript Plugin
The quickest and easiest method that works with every shop platform. You are just one line of code away from your new search.
Install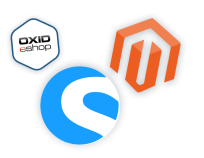 Shop Extensions
If you have a Magento, or an Oxid shop, install our app for a deep and smooth integration out of the box. For Shopware, simply contact our dedicated support.
Learn more
REST API
Need to have full control over your product indexing and updates? Check out our REST API.
API docs
Not sure where to start? Drop us a line – we're here to help!
Contact us
Full control in no time
Result Manager
No need to call your IT guy whenever you need to tweak your search behavior. We've got a built-in result manager for you:
Drag and drop result cards to reorder and pin the best hits.
Create custom banners out of any page, product, video, or PDF, write your own description, and schedule your promotional campaign.
Guide shoppers searching for a particular brand or product type to a dedicated landing page or to a pre-filtered set of results.
Map non-product searches such as phone number, return policy, or shipping to respective info pages.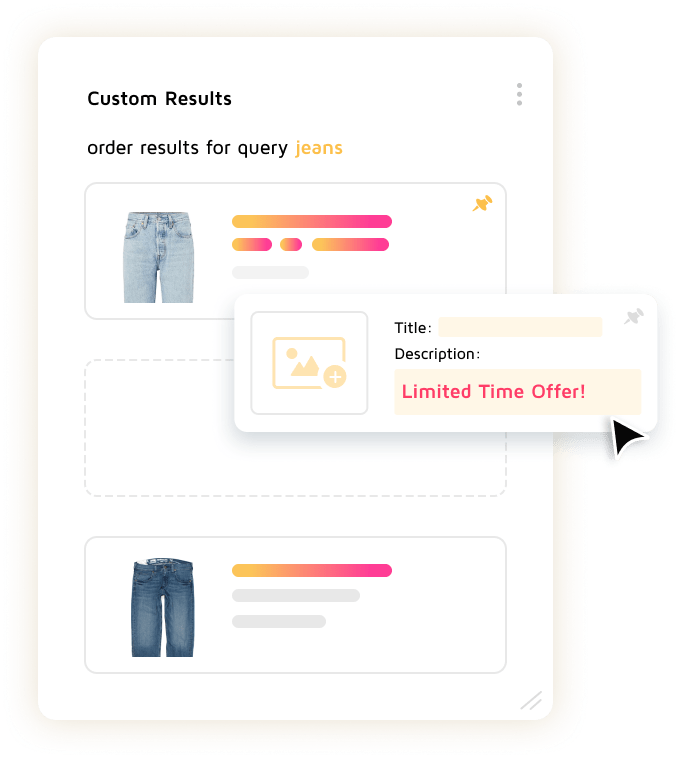 Ranking Strategies
Need to promote a specific category, brand, or collection? Or maybe boost products with a specific feature that are also on sale? Just tell us what's important and we'll automatically re-arrange the results based on multiple ranking factors.
Push items that are out of stock or have delivery delays to the bottom and boost the highest-selling and the most-viewed products. Running campaigns has never been easier.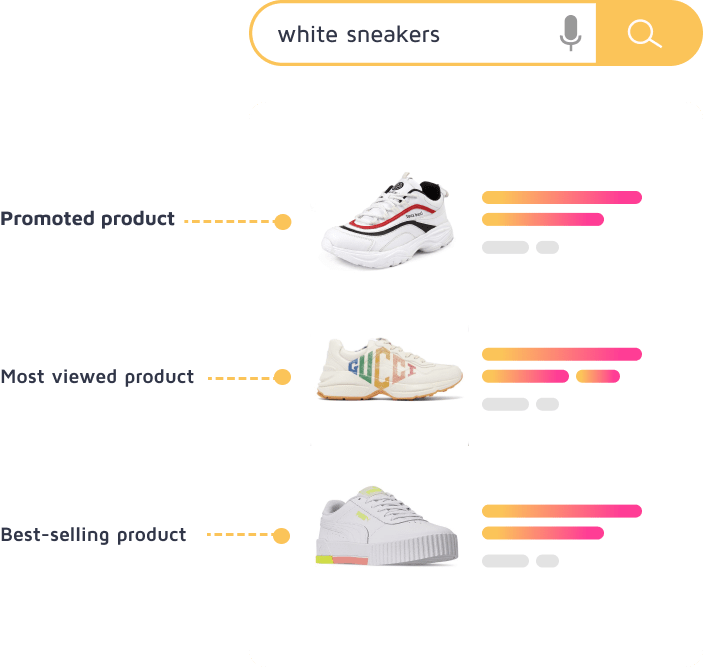 Personali­zation
Optimize your search results based on user groups so the right person sees the right thing at the right time. You can also scale prices for each product and user group.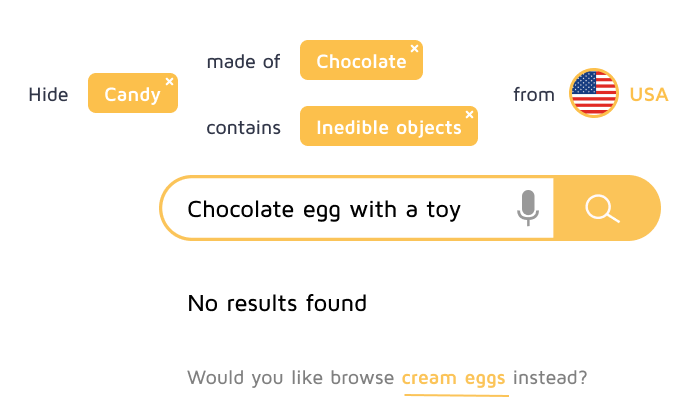 Actionable Analytics
Concrete data helps you optimize our search. Our back-office analyzes how your search performs top-to-bottom to show you what's working and what can be improved.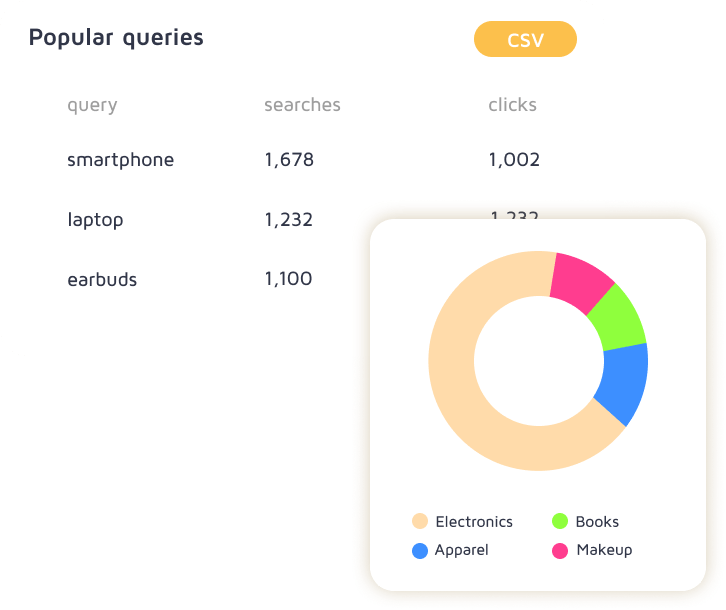 Features
Filters
Narrow down results easily and clearly
Sorting
Automatically sort results based on query intent
Content Search
Enrich your results by uniting all your site content within one search
Highlights
Relevant products will be ranked higher
Spelling Correction
Typos are corrected automatically
Navigation
Landing pages with pre-set filters and ranking strategies
Voice Search
Baked-in future-proofing and accessibility
Multilingual
Polyglot search to open new markets
Performance
Fast response times for a stress-free shopping experience
Fast Integration
Connect via feed, shop extensions, or API
Quick Updates
Complete, incremental, and partial product updates
Ontology-enhanced search
Site Search 360 e-commerce search delivers highly relevant and accurate results out of the box thanks to our custom-built ontology (knowledge graph), enhanced by an AI engine and fine-tuned by our Knowledge Engineering team. Your product data is analyzed semantically which means that every item is classified and mapped to the respective nodes in the category-tree structure of the Site Search 360 ontology. This process enriches your data with synonyms, hyperonym-hyponym relationships between the terms as well as product vs product accessory hierarchy. On top of that, the ontology contains thousands of predefined attributes such as colors, models, sizes (with units), etc., also organized by category.
When we index your site and product catalog, our AI engine extracts all attributes known to the system, normalizes and clusters your data so the corresponding nodes in the ontology, just like neurons, get activated. And when your Site Search 360 AI brain is presented with a search query, named-entity recognition (NER) takes place, categorization is applied, and the semantic intent of the searcher is resolved.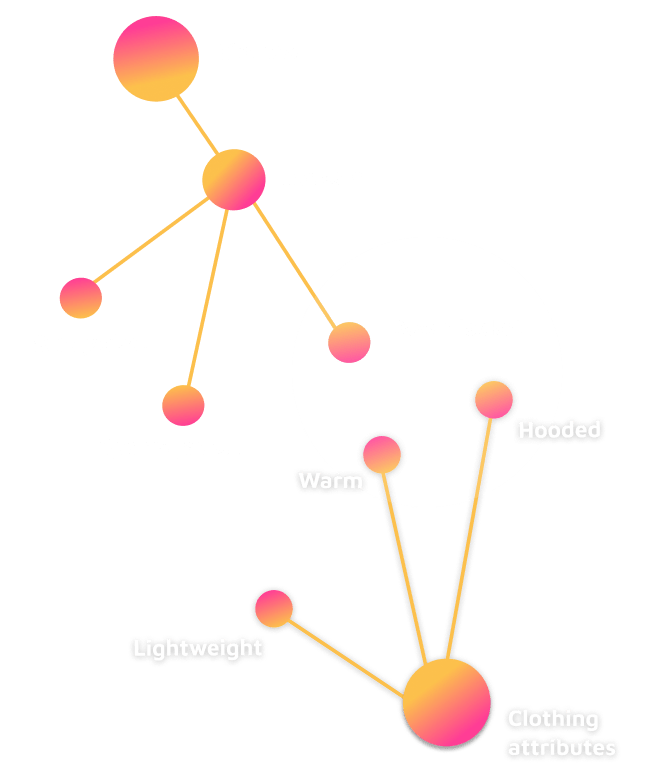 Why Site Search 360?
One-Stop Control & Analysis
With the unique power of our ontology, your search is both ready to go out of the box and fully customizable. Let our in-depth analytics maximize your conversion rates.
A Search for the Future
Manual maintenance is a thing of the past. Our custom-built search engine is enhanced by machine learning and automatically stays cutting edge and up to date.
Feel Supported
Your success is our success. Quality Choice support that has the Happiest Users, as recognized by Crozdesk. We have your back with anything that comes your way.
Still got some questions? Contact us to discuss integration and pricing.
Get in touch
Our Customers
Site Search 360 semantic product search will drive your online shop conversions and bring you happier customers. You can see our tech in use in the shops below.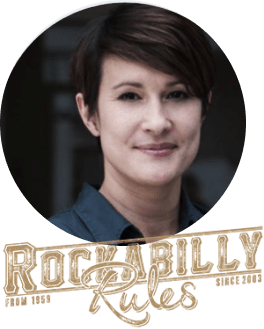 "The Site Search 360 semantic product search integration has dramatically improved our webshop search. Not only has our search been augmented by various features, but it now also delivers significantly better, more precise results. Plus, the integration was easy, and we didn't have to change our search result layout."
Achara Rossow, Head of Marketing
Case Studies
Rockabilly Rules is a shop for the rock 'n' roll lifestyle. Our challenge was to make it simple for the customer to integrate the search into their existing shop system without impacting any of their own programming work. Read the story behind their awesome search, check out the Rockabilly Rules case study.