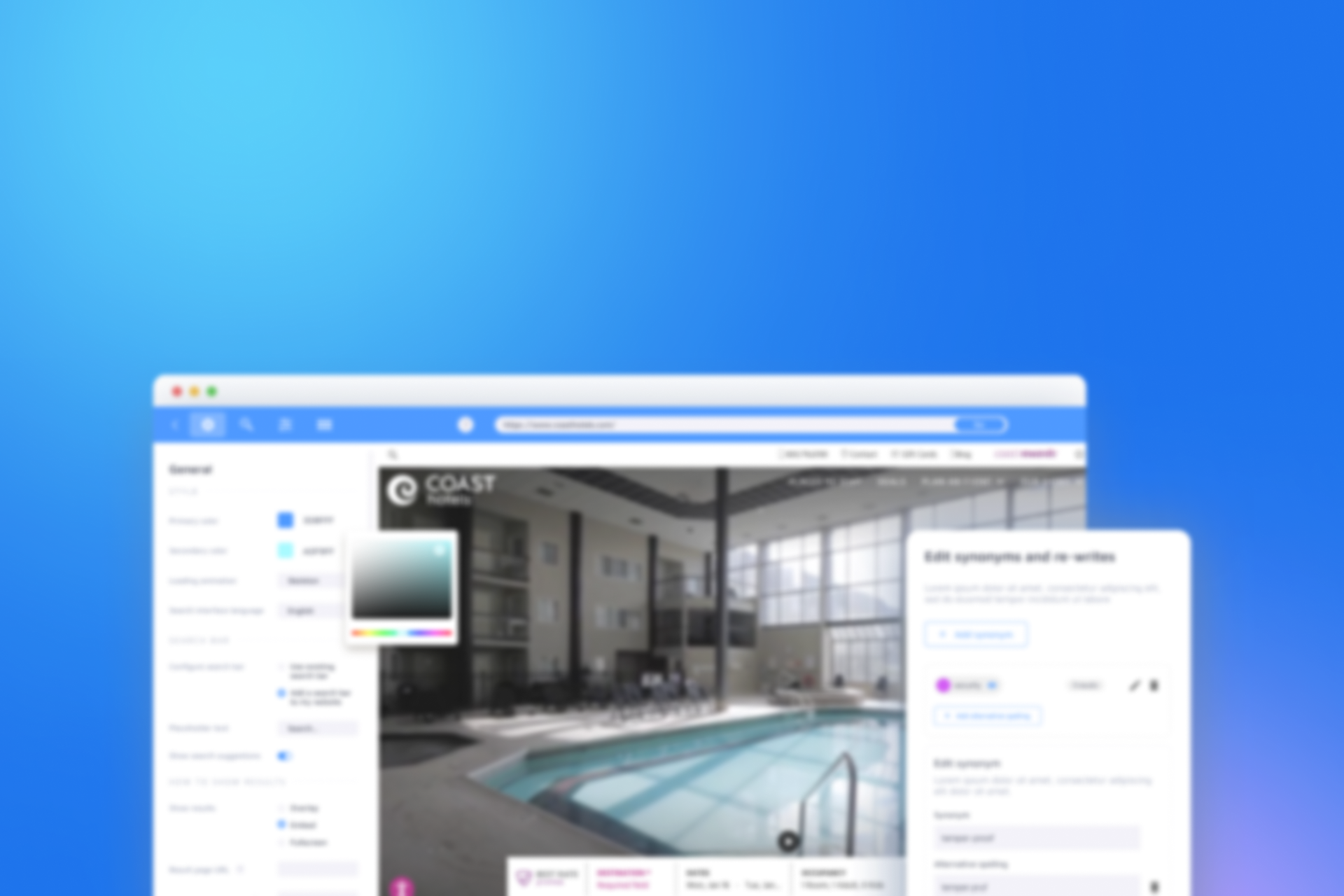 A year in review: Best of Site Search 360 in 2022

Sarah Brochard
4 mins to read
Before we embark on the grand adventure that 2023 is setting out to be, we wanted to take a bit of a breather. In the short span of a single year we've raised our search to unprecedented heights, and it wouldn't be possible without your continuous support.
We present you with an overview of every feature we've released within these last 365 days. So sit back, relax and dive into the rise of Site Search 360 in 2022.
Over the last 12 months, we released:
Search Designer, a handy in-app tool to help you tweak your search interface without a line of code;
v14 configuration which comes with advanced UI options while making your life easier by automatically applying updates;
Advanced eCommerce functionalities such as an eCommerce search feature to easily integrate your product feed;
A trailblazing eCommerce search app for Shopify with 360 product search and filters;
An awesome Result Manager to give you enhanced control over your search results, whether you're a content or eCommerce search customer;
Smarter filters for a more tailored search;
Improved Dashboard and in-depth analytics;
A re-designed website with a superfast and smart search functionality!
Here's what each of these awesome features brought to the table.
Design at your fingertips with Search Designer
We released the Search Designer, a low-to-no-code user-friendly interface to help you tweak the design of your search box, search suggestions, results' layout, and more.
You can access it directly from the app's control panel, behind the Design & Publish menu, regardless of the plan you're on! It's the perfect tool to create a unique search interface.
Read this insightful blog post to learn more about creating a unique search design with just a few clicks.
Automatic updates for your search
Our latest search configuration, v14, lets you apply changes without touching your code thanks to the user-friendly Search Designer.
V14 is now available to all users, old and new alike, though new users have the benefit of enjoying its perks without having to upgrade. Your search will also be automatically updated when we release a new script version!
V14 also includes these useful features to improve your search experience:
A list/grid switch: users can easily switch views to display results in either grid or as a list by simply interacting with a toggle directly on the search results page (SERP).
Specific layouts for result groups to easily configure your search result behavior.
We didn't stop at making your site search smoother, we ventured into eCommerce!
ECommerce flair
We've made headway by launching Site Search 360 eCommerce search which is based on a multilayered and infinitely adaptable ontology that contains all relations, logical connections, and metadata, i.e., everything that's relevant to product and catalog exploration.
Once formulated in a search query, customer requests are understood and analyzed much more precisely. This is most important since 60% of online shoppers find the most frustrating aspect of online shopping to be irrelevant search results.
In addition to more accurate results, you also benefit from a faster search which, in turn, will lead to increased customer satisfaction and a higher conversion rate. Overall, a major gain for your online store.
Here are some of the advanced features included in our eCommerce search:
Product feed integration: all products are processed by the Site Search 360 semantic engine to ensure the most optimal results;
Product variants: eCommerce customers benefit from visualizing different versions of a product thanks to an image slider, or multiple options of picture thumbnails, embedded directly in the results page;
Result rankings: thanks to our powerful ranking strategy tool, you have total control over the order in which your products show up in your search results;

Image extraction lets you manage what images are displayed in your search results. You have the option to include multiple images within a search result card with Alternative Images Extraction;
Data points extraction assists you in selecting specific information from indexed pages, and in structuring it better. In turn, this helps your customers find and navigate your results/products more smoothly;
Related content, related products and concept relations are used to display related articles and/or products within the same results' page. This set-up shortens the customer's search journey, increase products' exposure, as well as your CTR and sales conversion;
Concept mapping(s) helps you better understand the relationships between products, and classify them logically and visually. For instance, the children concepts 'steel', 'clear zinc' and 'nylon' all belong to the parent concept 'material'.
Product search filters: in eCommerce projects, you can set up filters based on your product feed so that your product attributes are neatly turned into filter options.
For instance, if your feed contains structured data like 'color' and 'material', these will automatically be turned into filter options when you upload your product feed.
These cutting-edge features all contribute to increased customer engagement with the product search process, and shorten their journey from search to cart.
Interested in adding eCommerce search to your existing Site Search 360 setup? Contact our support team and have it running in minutes!
Now, let's talk about our exciting new eCommerce app!
360 product search and filters for Shopify
With 360 product search and filters, Site Search 360 has implemented back- and frontend features to up its game as the go-to eCommerce search app for Shopify.
Check out our free demo store to see the app in action.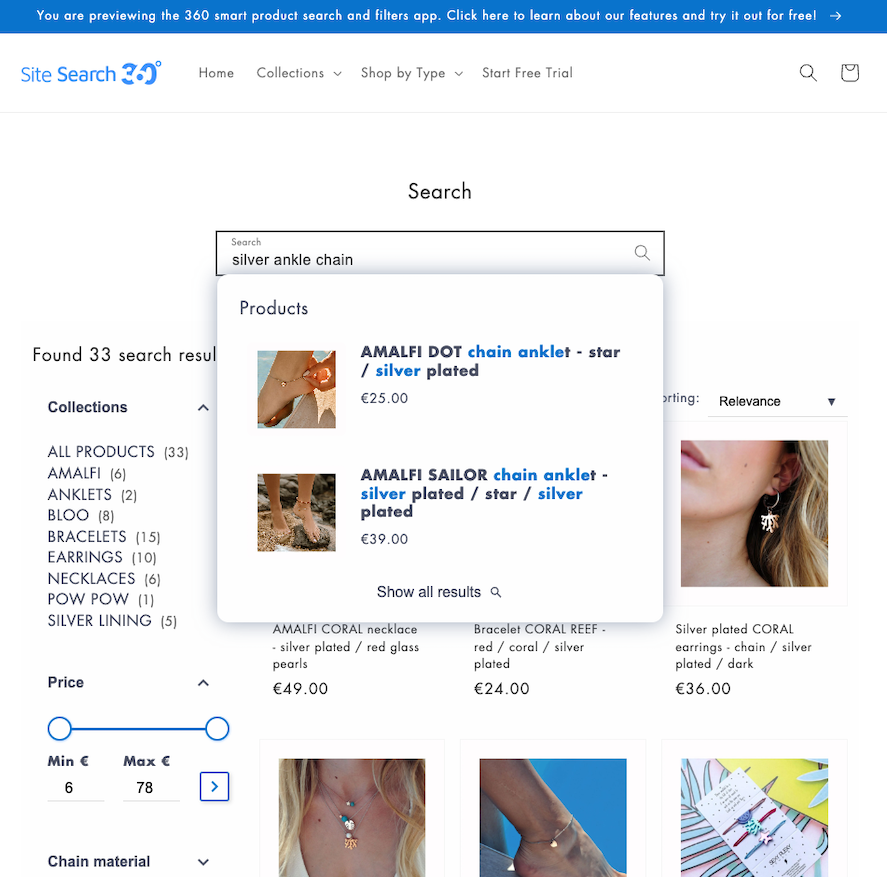 You can easily get the 360 product search and filters from the Shopify app store and let it work its magic on your online shop with just a few clicks!
What about looking at our enhancements for the search results' functionality and how you get to control it?
A built-in result manager
We developed this feature to help you manage your search results so that, in turn, you better meet your customer purchase behavior on your online store or website.
Here are some key takings from this functionality:
Result mapping to select specific search results for any query, sort and display them in a specific order, and even create custom results;
Custom banners to showcase announcements, seasonal offers, sales - and anything else that might need to be brought to all of your customers' attention - above the search results' page;
Autocomplete queries to speed up the search process and sustain customer engagement while on your site or store;
Ranking strategy (eCommerce only) for chosen attributes with 'less is better' or 'more is better' logic and instant preview of your changes available;
Add custom results or even blend results from other queries, amongst available customizations.
Smart filtering for enhanced result customization
We improved Site Search 360 filters to save your customers time from product search to results, and enhance the search experience with:
Global Filter Settings;
Category Dependent Filters;
Product filters (for eCommerce Search only)
For marketers and store owners keen to understand their customer purchase behavior, we have even more developments.
An intelligent dashboard
You now benefit from a more exhaustive Dashboard with in-depth analytics and search insights to help you better understand what your users are searching for, the queries which return zero-results, the most popular searches/results, etc.
As an administrator, you can easily use this data to customize your search results, promote/demote specific products, and tailor your seasonal offers to be more attuned to your shoppers/users' needs. The Dashboard includes these tabs:
Search Success Tracking: this feature gives you valuable insights into your search's performance across several key metrics and over time. As at January, it is only available for Batman customers, or eCommerce customers with Holmes and above. See our price plans for more details.
Search Map shows you where your customers are based, so that you can adapt your search results' functionality to respond to different geographical locations and imperatives;
Relations enable you to see the result clicks, views, requests as welll as the click-through-rate of related content searches;
Checkout tracking is in beta mode as at early January 2023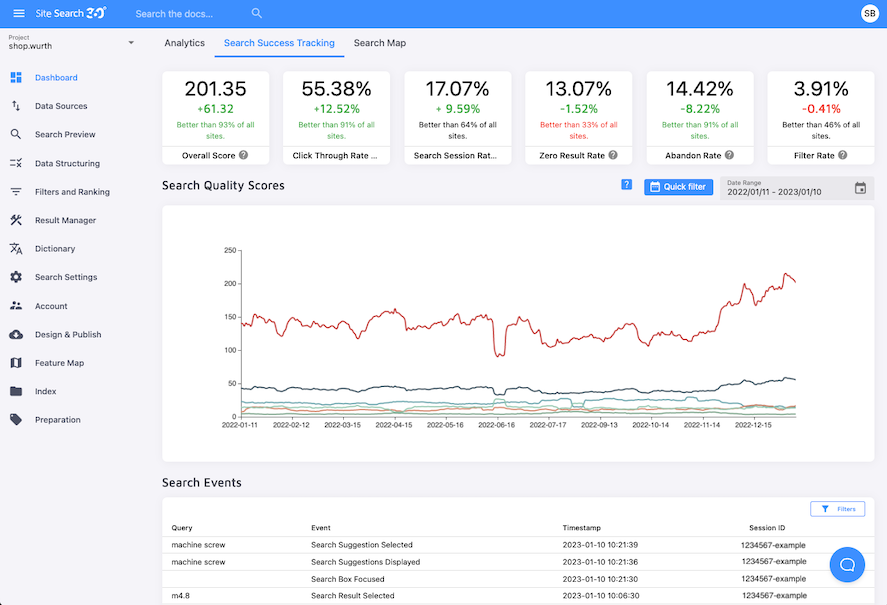 We are constantly improving this tool, so do not hesitate to reach out to let us know how you're getting on with it.
A revamped website
Finally, the Site Search 360 website has had a major overhaul in 2022 to showcase our search product, its amazing features and growing list of applications more effectively:
Interested in knowing more about our amazing site search solutions? Check us out, simply go through our docs or feel free to reach out for more information.
If you're not a Site Search 360 content search or eCommerce customer yet, go and treat yourself to a free test account today.
If you like what we do, join us on Twitter, LinkedIn, and Facebook.