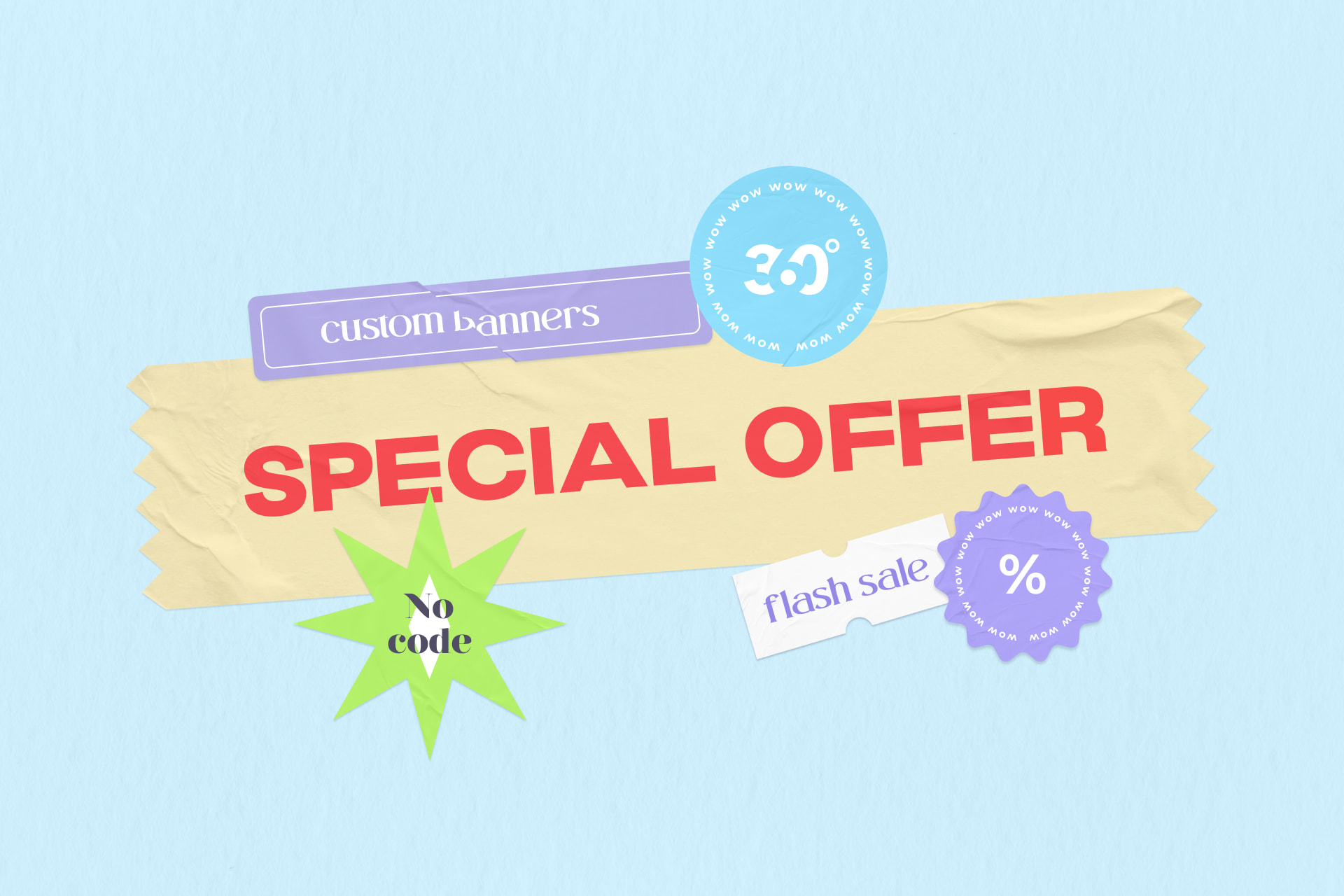 Power up your eCommerce search

Sarah Brochard
4 mins to read
Why invest in a stylish online store or a modern website if your search functionality is not up to the task?
Site Search 360 has buffed up its content and eCommerce search with a smart Result Manager functionality to supercharge your online shops and your websites.
Advanced features
Result Manager gives you enhanced search solutions to better respond to your customers' online purchase behavior. It is available to both content and eCommerce search customers.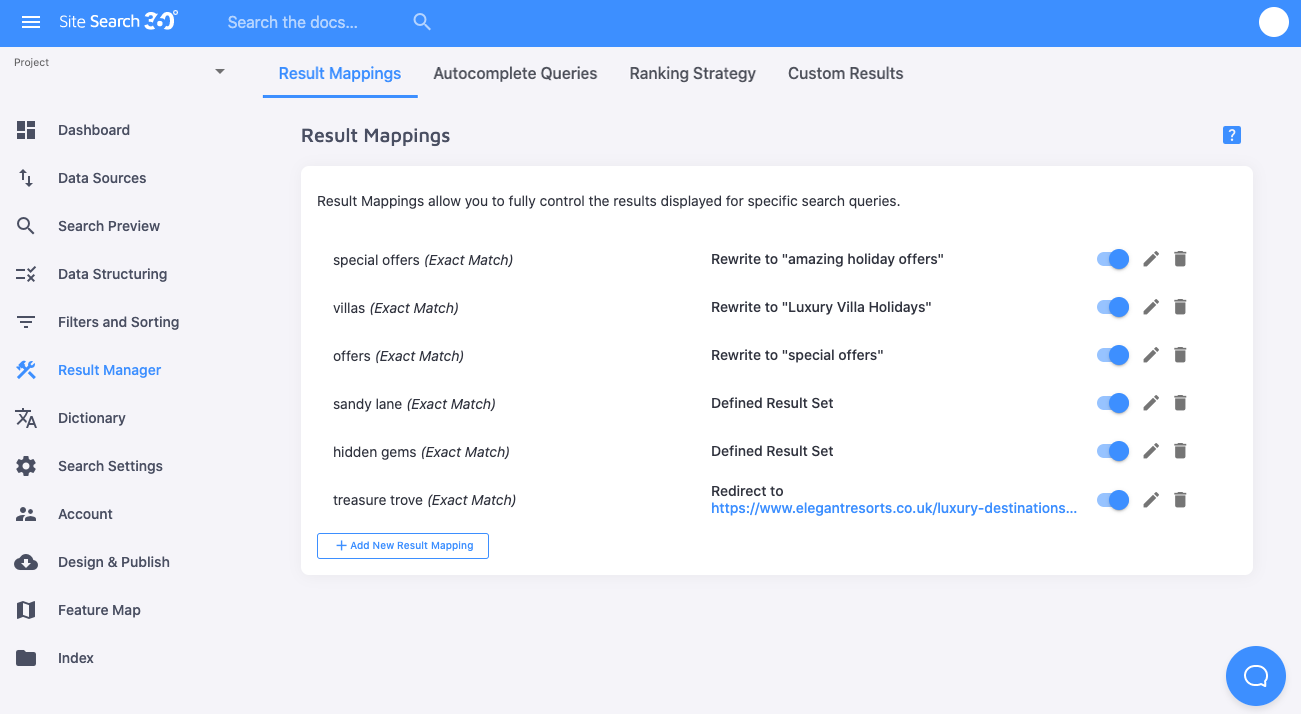 In sum, you benefit from:
An intuitive Result Mappings interface with easy drag and drop to pin, reorder, or hide the top results which appear on your search results' page (SERP);
The option to create custom banners out of any page, product, video, or document (PDF, DOC, TXT, etc.), write your own descriptions, and schedule promotional campaigns;
An Autocomplete Queries option to automatically suggest the most popular queries whenever the searcher starts typing in the search box;
A Ranking Strategy (eCommerce search only) feature for chosen attributes with 'less is better' or 'more is better' logic and instant preview of your changes available;
The option to create Custom Results, and much more.
Better still, this exciting feature is directly available from Site Search 360 eCommerce search's Control Panel.
Let's have a closer look at the Result Manager interface.
Highly customizable results
We can't explore the newly redesigned Result Manager without highlighting its advanced yet intuitive Result Mappings solutions. We've enhanced this option so that you're able to work with more results at once.
In a nutshell, result mappings allow you to customize the results the user will see for the queries you specify.
In the example shown here, the mapping has been configured so that whenever the search query matches 'treasure trove', the user will always be redirected to customized results.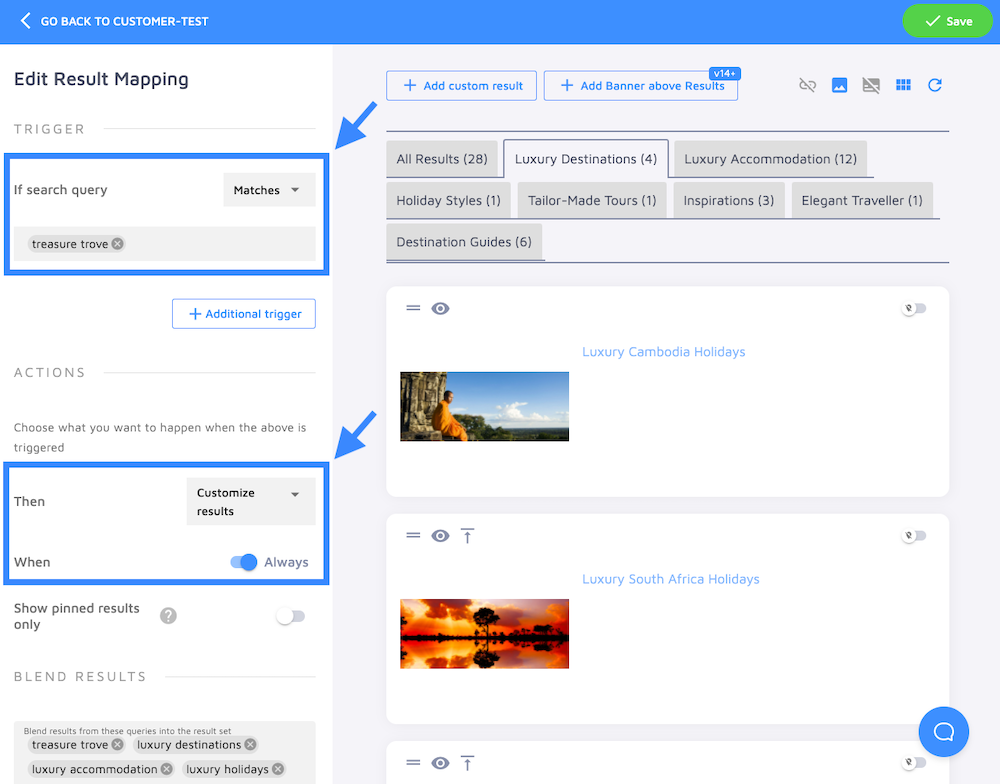 Customizing results is not the only exciting option which you can action through Edit Result Mapping. In a nutshell, you also have the possibility to:
Rewrite trigger to, that is, to specify the preferred search query. E.g., if you sell 'sunglasses', rewrite the queries 'sun glases', 'sun glaces' and 'sunny glasses' to 'sunglasses'. So, it's also a neat yet simple way to correct typos and manage variants.
Redirect to URL to direct searches to a specific page that answers the searcher's query best. For instance, set up the query 'contact' so that it directly returns your contact page URL. In sum, this enables you to easily map non-product searches such as phone number, return policy, or shipping details to the relevant information pages.
In the following screencast, the search query is redirected to a specific URL for a defined time period to promote, for example, a special seasonal offer.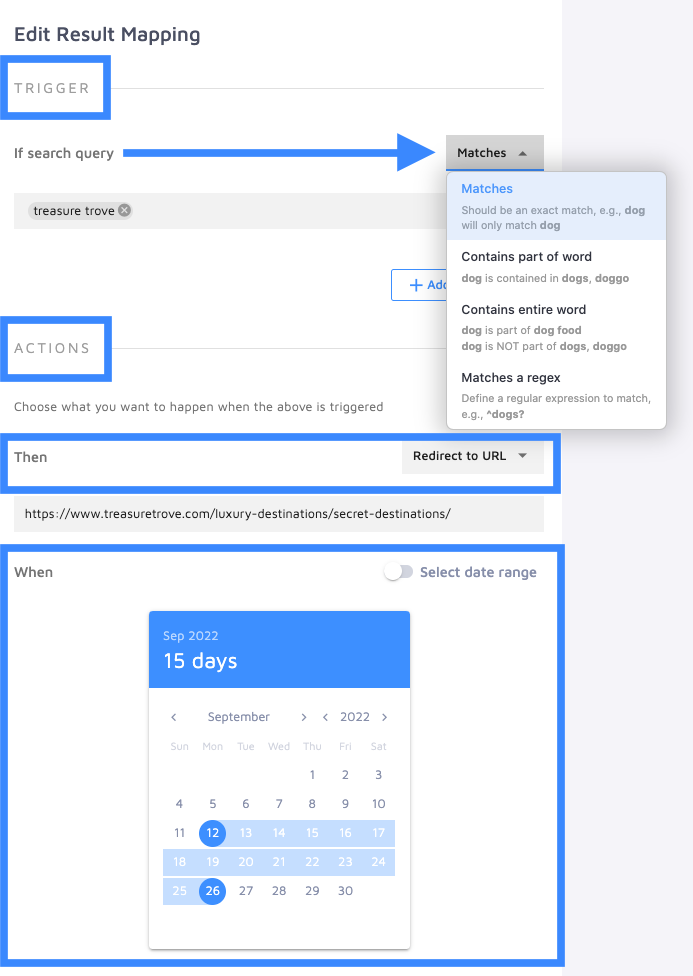 The Result Mappings preview interface is designed intuitively so that you can easily:
Reorder results with drag and drop;
Pin specific results at the top of your page with a toggle;
Hide or show result cards

You also have the possibility to add custom results or even blend results from other queries, amongst other customizations.
Blend results
Blend Results is a new option available within the Result Mapping tool for both content and eCommerce search customers. It is a particularly neat feature which you can use to:
Avoid zero results;
Better cross-sell;
Upsell your products or services
For instance, you want to optimize your search results so that customers looking for 'cakes' also see results for 'cupcakes' and 'cream'. Here's how you could easily set it up so that results from all three queries blend into the same result set.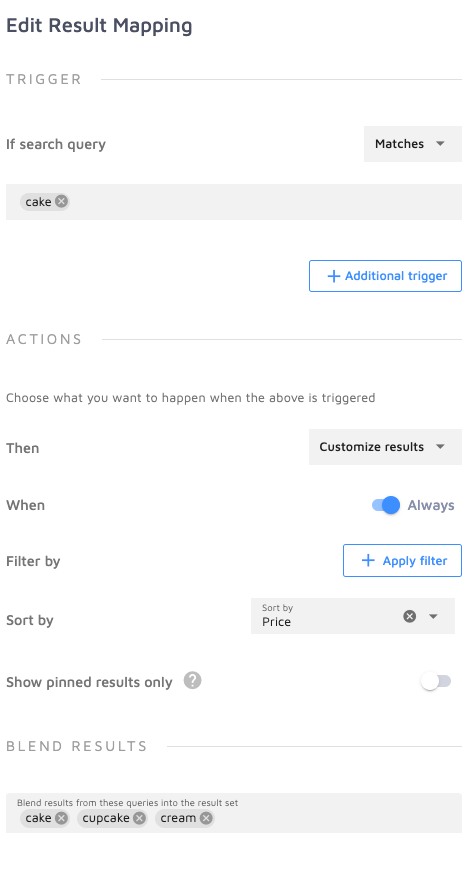 Besides, you have the option to better guide shoppers who are searching for a particular brand or product type to a dedicated landing page or to a pre-filtered set of results by applying additional filters and/or sorting options (please see Filter by and Sort by commands in the above illustration).
Thus, Edit Result Mappings gives you simple solutions to enrich your data, and make specific results stand out.
Boost your upsell strategies
At Site Search 360, we understand how successful upselling increases revenue and profit for your online store.
Our Result Manager includes advanced merchandizing features for highlighting, hiding and promoting your products. This includes options to customize search results, so that you can manually recommend/highlight specific articles or products for a given time period. For instance, by clicking on the '+ Add banner above results' button, you can easily add a custom result with:
An image and corresponding link/snippet
HTML
A video (embed a YouTube video or one taken from your website)
A document (PDF, Doc, CSV, etc.)
An assistant
A page
Watch the video to see how easy it is to add a custom result and create a banner with HTML:
Besides the Result Mappings tab, Result Manager includes other exciting functions: Autocomplete Queries, Ranking Strategies, and Custom Results.
Let's briefly go over these options.
Semantically enriched suggestions
Site Search 360 is semantically enriched and allows you to set up automatic query suggestions (autocomplete) to save time from product search to results and improve your customers' search experience.
The Autocomplete Queries option lets you automatically suggest popular queries. By default, search suggestions appear once you type 3 letters in the search box. The suggestions become more precise as you continue typing.
Smart product ranking strategies
With Site Search 360 eCommerce search, you benefit from a Ranking Strategy option which lets you edit your ranking strategy for chosen product attributes with 'less is better' or 'more is better' through an intuitive interface.
What's more, you can instantly preview the effects of your ranking strategy, and modify it without interfering with your live product pages.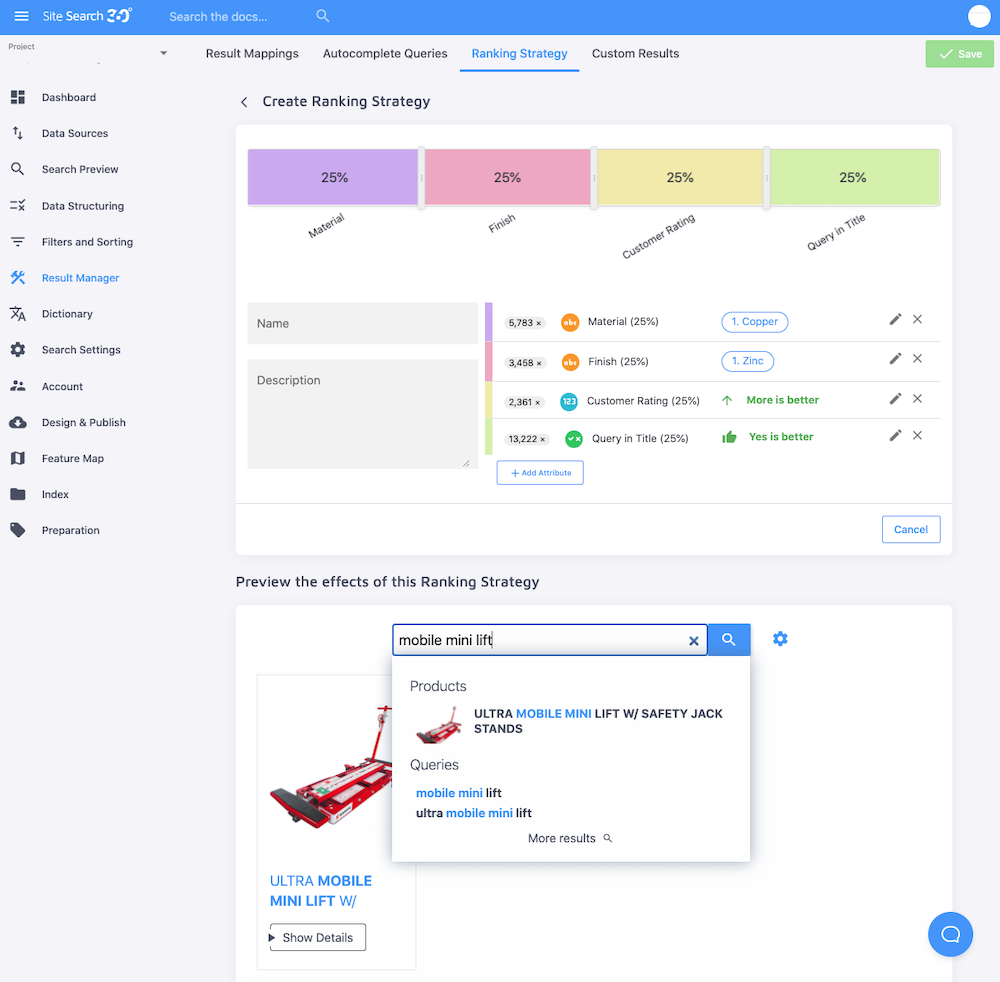 We are constantly improving this tool, so do not hesitate to reach out to let us know how you're getting on with it.
Highlight specific products and offers
Result Manager also includes a dedicated Custom Results tab, so you have readily access to this option from the main menu.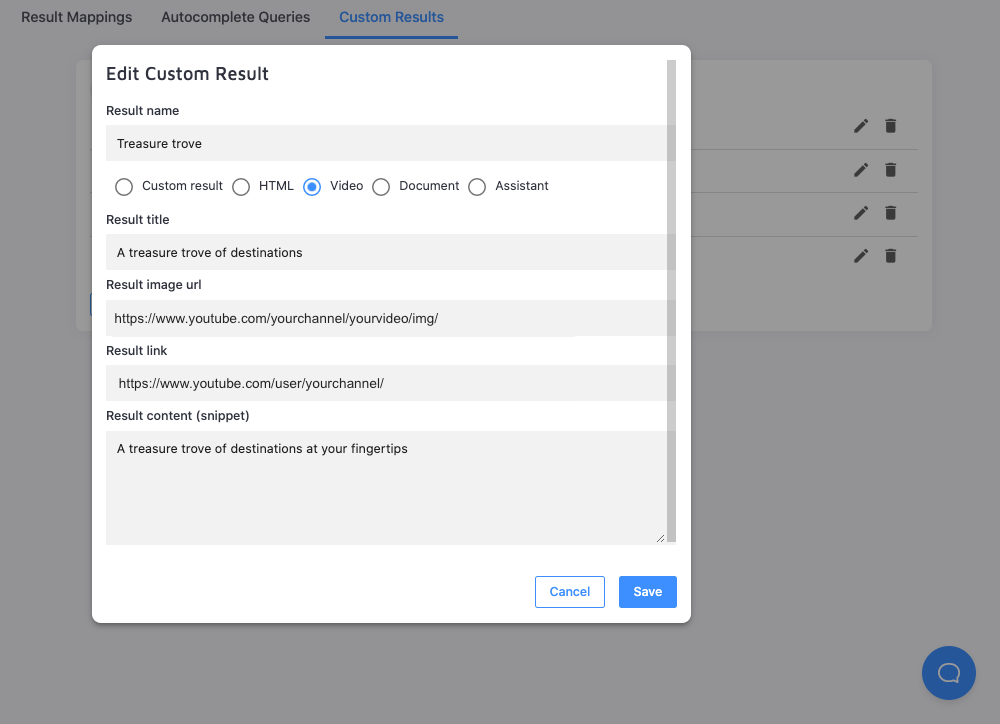 If you'd like to see the Result Manager in action, check out the free demo on semantic search available on our YouTube channel.
Are you an existing Site Search 360 customer but haven't enabled eCommerce search? To add this functionality to your existing account, please reach out to our support team who will be happy to help.
If you're not a Site Search 360 eCommerce customer yet, go and treat yourself to a free trial account today.
Interested in knowing more about our amazing site search solutions? Check us out or simply go through our docs for more information.
If you like what we do, join us on Twitter, LinkedIn, and Facebook.