Introduction
Ever seen a funny or inappropriate predictive search suggestions?
You know - when you start typing a search query and automatically a list of suggested searches pops up to save time. Sometimes the predictions are hilarious or downright strange!
For example, try typing "Why does my" into Google search, and you'll get interesting autocomplete suggestions...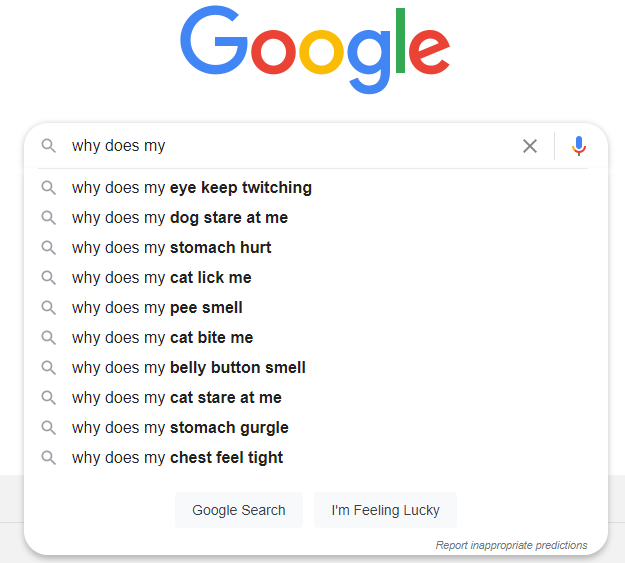 So what have we learned? People are curious as to why their pets keep staring at them. Maybe it's related to their twitchy eye, smelly pee, and ripe belly button... wo knows?
On a more serious note, search suggestions and predictive autocomplete features are commonplace these days. Most organizations that offer a lot of content or products on their website have a built-in search feature, including e-commerce, service providers, institutions such as banks and universities, etc.
But not everyone understands how search suggestions work.
Further, most people don't realize that the way in which predictive search suggestions are generated can be programmed and adjusted to more accurately match the intentions of the searcher.
But it's a topic that's worth researching, particularly if you're a business owner who wants to include site search on your website. It's understandable why you would want to do this - implementing on-site search increases conversions by 480% on average.
This article will shed some light on how search suggestions and autocomplete features work, with a special focus on structuring suggestions accurately. We'll also explore how optimizing search suggestions will help you enhance user or customer experience.