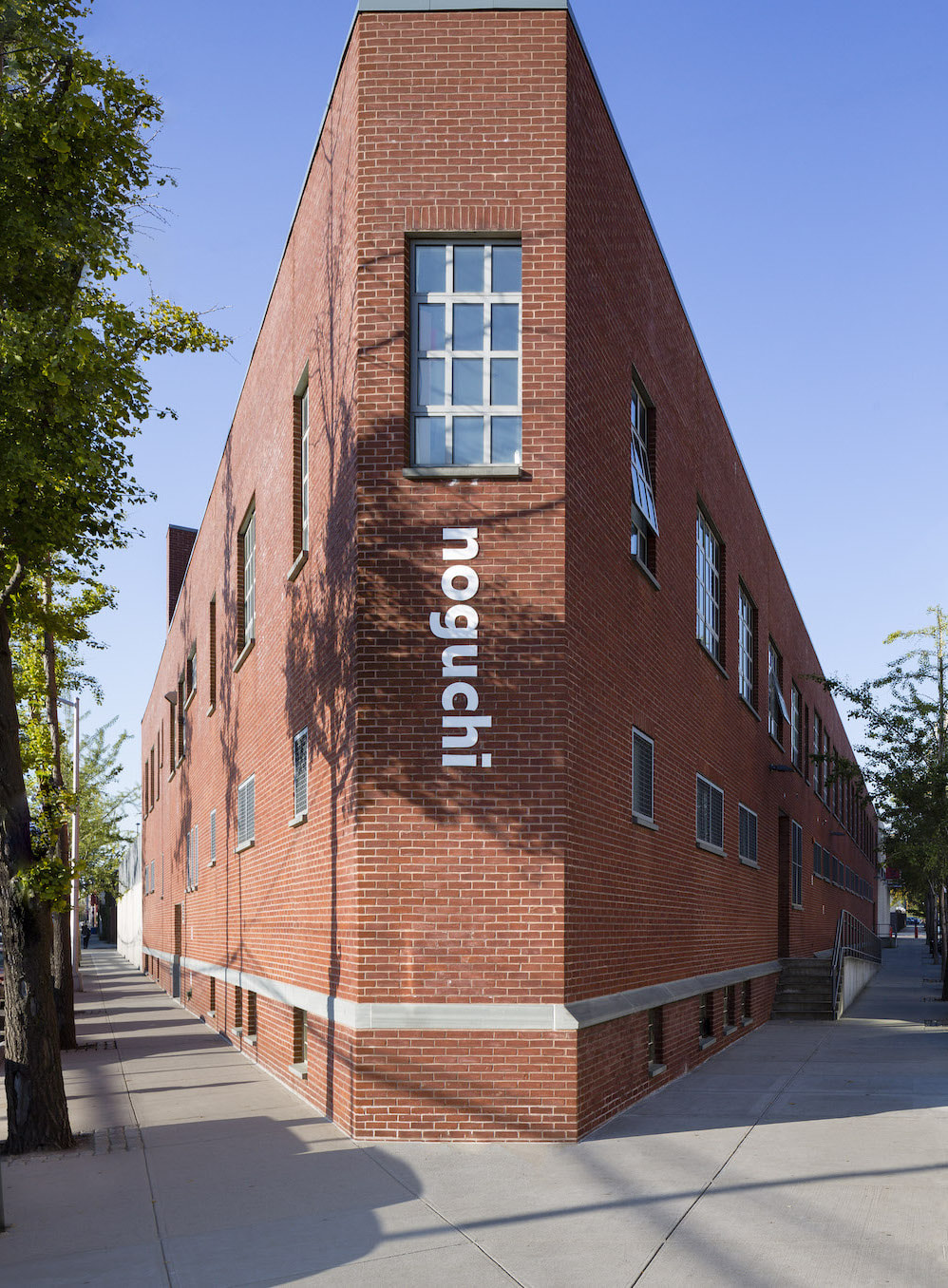 The Noguchi Museum lets art lovers seamlessly search its collections online

Sarah Brochard
4 mins to read
How Site Search 360 helps increase the Isamu Noguchi Foundation and Garden Museum's online presence
We interviewed Amelia Grohman, the Communications & Graphic Design Director at the Isamu Noguchi Foundation and Garden Museum to understand the role that a site search tool plays for a successful arts organization such as theirs, and to learn how Site Search 360 helps them grow their online and physical presence.
What's the story behind the Noguchi Museum?
The Noguchi Museum was founded in 1985 by renowned American sculptor Isamu Noguchi (1904–1988). It was the first museum in the United States to be founded by a living artist to present their own work in a self-determined context.
Today our organization preserves and maintains this incredible place in Long Island City, Queens, that he created, with a serene outdoor sculpture garden and installations that Noguchi placed in a converted factory building.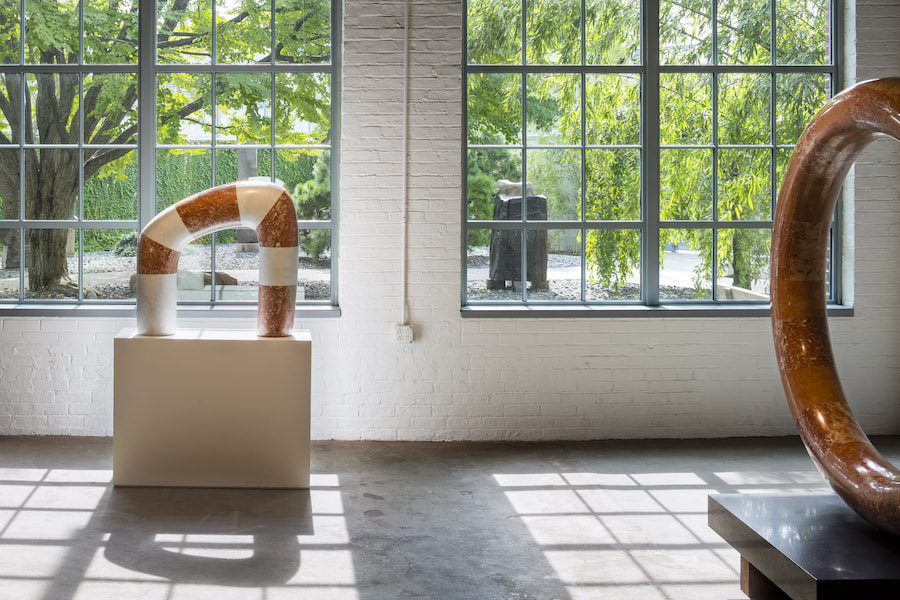 We also have a full calendar of rotating exhibitions and education programs, drawing from this incredible collection of works that he left to his foundation. We oversee Noguchi's archives and participate in organizing exhibitions of his art around the world, and support the sales and distribution of his Akari light sculptures, furniture designs, and editioned works that are still in production.
Why were you looking for a search solution for The Noguchi Museum, and how did you hear about Site Search 360?
In 2019, we launched a major redesign of our website and ecommerce shop, and brought Isamu Noguchi's complete archive online. The archive contains over 60,000 unique items which are now freely available for the public to explore (see press release).
The New York-based agency For Office Use Only provided front end visual design and development, and Whirl-i-Gig (the developers of CollectiveAccess) developed the Isamu Noguchi Archive.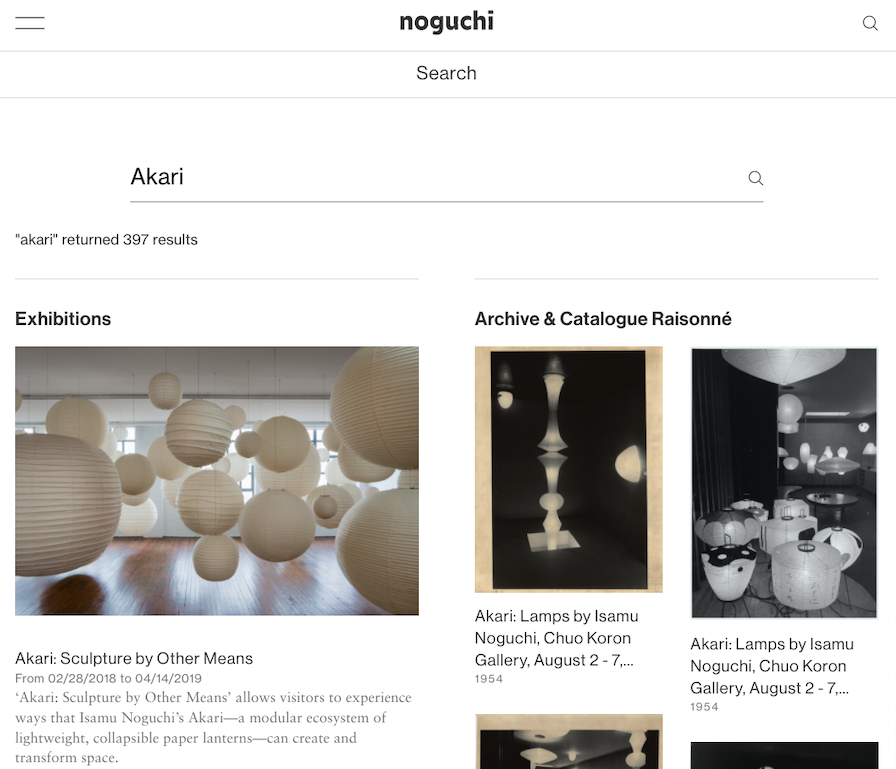 How Site Search 360 comes in is that we have many different functions for our organization far beyond what a small art museum would typically have. We have a significant design sales operation, which Noguchi intended to help the museum to survive into the future and remain independent.
We are also the artist's foundation, and have this very large digital archive with thousands of photographs, manuscripts, letters, drawings, and audio-visual materials, and we have the ongoing events calendar of the museum (exhibitions and education programs).
So, it was super important for us to have a really robust, faceted search function because we might have people coming to our site for such a wide variety of reasons, and they might be looking for the same object but in a very different context. For example, they might be looking for the Noguchi Coffee Table because they want to buy one. Or they might be looking for the Noguchi Coffee Table because they want an archival image of it for a magazine article, or because they are writing their PhD dissertation related to mid century design, or because they heard about a program that we're putting on which is focused on the Coffee Table. So, we needed to enable visitors to use simple keyword searches to reveal results from all of the subdomains that we have in a very clear and engaging way.
More specifically, we have to give credit to the designers and developers at For Office Use Only with whom we worked on this project. They recommended Site Search 360 to us as a solution and built out this beautiful implementation. They have received a couple of awards for their work on noguchi.org (Website Design Award at DNA Paris & W3 Gold Awards).
Speaking of award-winning design, how does the minimalistic site search implementation fit the overall design of the Noguchi Museum's platform?
We know that people use very general terms when they're keyword searching, or when searching generally. We wanted to make the site search clearly direct them on their journey from a very simple starting point, so that they wouldn't be overwhelmed by having many filter options or faceted search right away. It's a sharp design in terms of the search box and search results page, however, it also offers all the results: we reveal to them all the options which are available for any given keyword organized by section of the site: Exhibitions, Digital Features (longform articles), Archive and Catalogue Raisonné, Shop, and so forth.
How does an on-site search feature help your site visitors (for example, improved on-site visitor experience, higher conversion rate, general visitor's behaviour, etc.)?
We have found that over 95% of our site visitors use the global search function, and the detailed reporting and features such as query mapping enable us to continuously improve both the quality of the search results and make adjustments to the content to be more discoverable. Since the redesign and re-platform of our websites, we have seen a very significant increase in sales from the shop, in new memberships to the museum, and in engagement with all of the educational resources that are now available on our site.
What has been your experience with the Site Search 360 Control Panel?
The most useful features in the Control Panel are the Insights through the Dashboard and the granular control we have to re-index certain items.
Through looking at the 'Frequent Zero Queries' stats on the dashboard, we realized that visitors were searching for 'Akari' but that they actually wanted results for the 'Akari lamp'. So, we added custom synonyms in the dictionary (cf. preview below) to increase the semantics level of our search tool, and ensure that visitors found this popular product faster.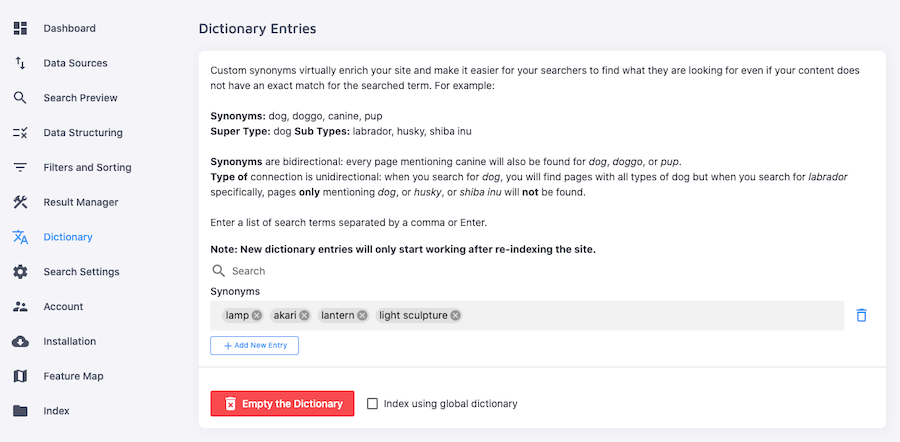 We can also easily put in Result Mapping terms (cf. preview below), or adjust the priority of search result items based on what we expect our visitors to be looking for at certain times.

In addition, we used the Result Manager feature to customize results by first creating a Result Mapping for 'Akari' and 'lamp', and pin results so that specific result cards would show as a priority, while others could be hidden if they were, for instance, out of stock (cf. preview below).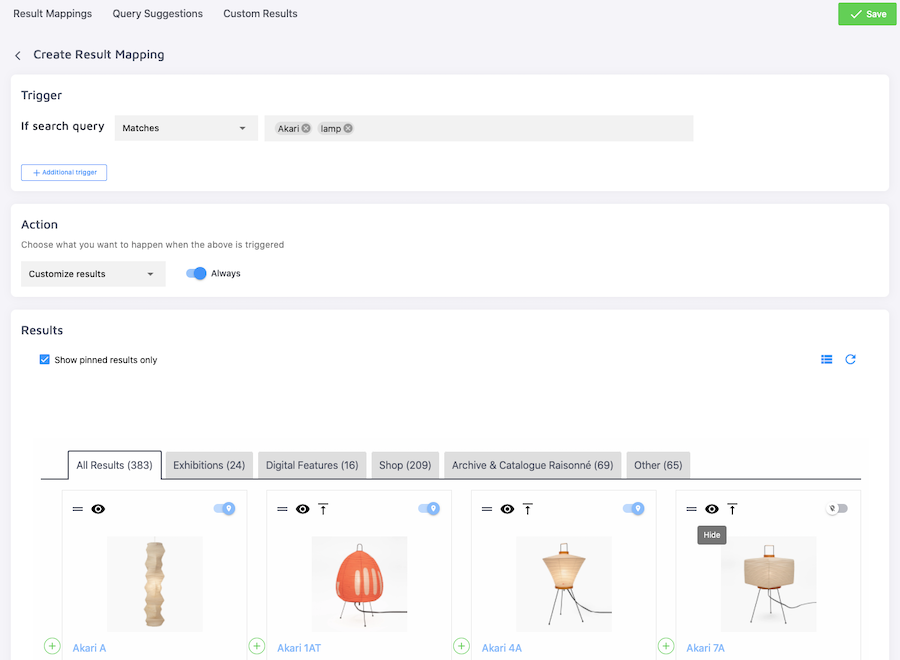 Through training* which I received on Site Search 360, I learnt that we can easily use the FAQ Indexing feature to show answers directly in the results (cf. preview below) so that visitors don't have to scroll all the way through the page to get to a particular answer, and this is a considerable improvement in terms of customer experience on our website.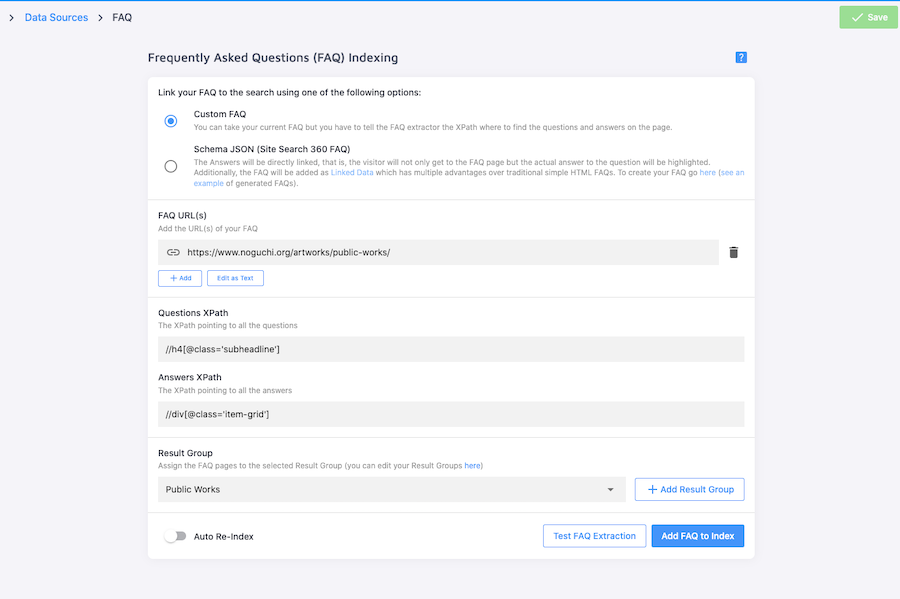 * NDLR; please contact our support team if you're interested in attending one of the regular group training sessions which we organize for Site Search 360 customers.
What can we improve?
The big challenge that we had (and why we went to a larger plan) was that we have so many thousands of items in our archives and those pages are generated dynamically, so at first it was difficult to figure out how we can get Site Search 360 to index all the content. All of the materials in the archive actually have OCR text recognition, and it's an ongoing challenge to make sure the archive items are being indexed to their full potential and that the results are prioritized correctly to be most useful for the visitors.
Have you received proactive support from our team overall?
Yes. Thankfully it's one of the tools that we use that has required very little maintenance or fixing. We've never had anything really break in a big way, which is hugely important. So that's extremely refreshing and I found that support has been really responsive.
What value are you getting from it?
I actively check the dashboard to see the search insights and the stats. I try to make sure that if there are recurring zero results queries, we fix that by re-mapping the search results or the Dictionary to rule out certain queries by setting up rewrite-type mappings or synonym relationships.
Also, seeing popular search terms does inform us where we need to have more robust materials. It definitely helps us pinpoint the quality issues with our descriptions. So, we can then improve the meta-descriptions and the quality of the overall descriptions based on those. That also influences the visibility in Google or other search engines.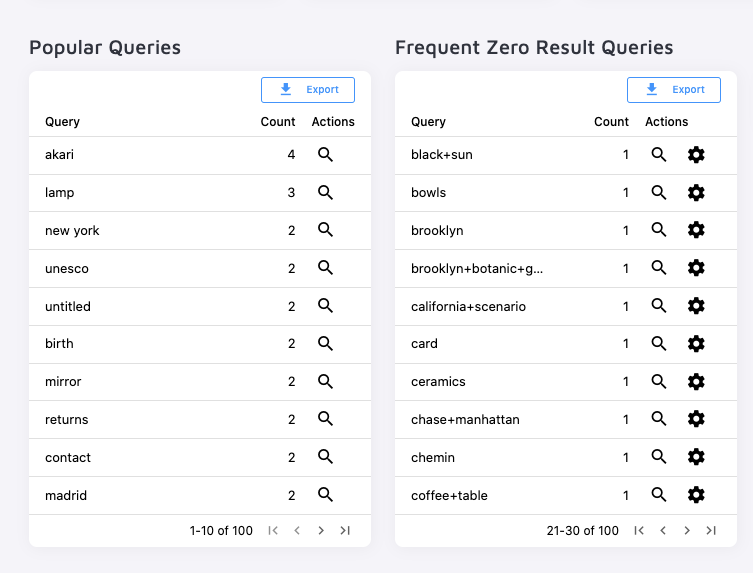 It's important for us that all pages be interconnected correctly once the site is crawled, and since we've implemented the sitemap solutions which Site Search 360 offers, we've been able to resolve indexing issues.
Overall, it's hard to isolate one element or another, but certainly the powerful search combined with the new design and the re-platform of all of these properties has had a huge impact on conversions for the shop and also for membership so they've really grown in a way that they never have before.
We currently use the default Shopify search on our store which is fine, however, we'd certainly benefit from a more advanced search tool.
Were you aware that Site Search 360 is releasing a Shopify integration in Spring 2022?
No, I wasn't aware of it. It's definitely something we would be interested in, especially when it comes to our Shop page, so that our customers can enjoy a smoother search experience.
What would you tell someone who's considering using Site Search 360?
I would definitely recommend it not only because it is a very flexible tool to implement, but also because it constantly evolves with our needs as customers in mind. 
There are additional technically advanced yet simple-to-use features, such as the Search Designer, which did not exist when we first implemented the site search solution.
This concludes our interview with the Noguchi Museum.
Interested in knowing more about our amazing site search solutions? Check us out or feel free to reach out for more information.
If you like what we do, join us on Twitter, LinkedIn, and Facebook.