The best WordPress search plugins

Olesya Elfimova
3 mins to read
An effective site search solution is essential for any website that hosts content. What's the point in having loads of useful, insightful posts and information if your visitors can't find it? WordPress is great, but unfortunately its standard search tool is quite limited. 
What's wrong with WordPress' default search?
The default search leaves a lot to be desired.
Aside from missing lots of key features, the default search just isn't that powerful and lacks the customization options that other dedicated plugins can offer. The basic search engine often returns irrelevant results that don't effectively cater to your site's content — which can leave visitors with a sour taste in their mouth. 
Plus, the default search isn't exactly user-friendly. There's little to no functionality or analytical tools to monitor what visitors are looking for, so there's hardly any room for improving the site search experience for your users.
There's a lot of search plugins available that promise to improve on WordPress' search, but with so much choice — it can be hard to know where to start.
With that in mind, we've compiled a list of the best plugins to give your website search a well-needed boost.
Discover how you can go beyond the basics and empower your users' search experience with our versatile WordPress site search plugin.
ACF: Better Search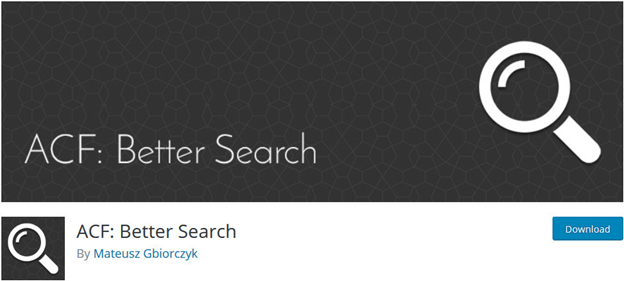 ACF: Better Search is a simple but effective plugin that builds upon WordPress' existing search but adds the ability to search content from advanced custom fields.
Why choose ACF? 
ACF allows you to search by text, text area, number, email, and URL. You can even enable a stripped-back lite mode that doesn't check field types but speeds up searches. It's also an extremely lightweight and easy-to-use plugin when compared with others across WordPress. 
What to keep in mind?
The plugin lacks the customization options and functionality that others can provide. You also have to to manually build every custom field before you can use it — which can get tedious when you handle a lot of data.
Still, it's a great place to start if you're looking to improve your WordPress search and aren't too bothered about some of the more advanced features and options available elsewhere.
Price
The plugin is currently free to download and use.
Relevanssi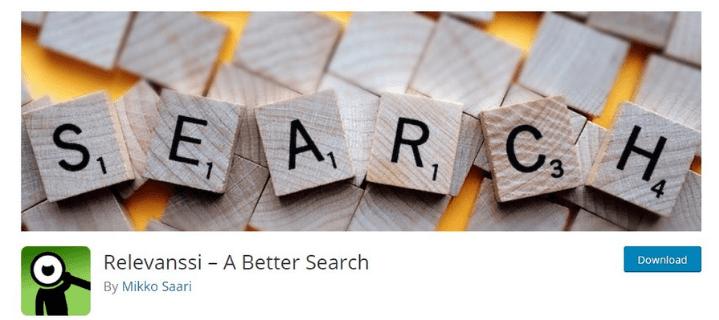 Relevanssi is one of the most widely used and popular WordPress plugins and provides a more streamlined search experience than the native WP search.
Why choose Relevanssi?
Rather than sorting search results by date, the plugin ranks by relevance. This means your users will get content directly tied to search criteria and keywords. It's available as a free version or a premium build that comes with other options such as multi-site compatibility, indexing, and a wider variety of post weight options.
What to keep in mind?
Relevanssi prevents user searches for a specific post type and doesn't offer live search suggestions as the user types. For this feature to work they recommend installing a SearchWP add-on, which essentially means you'll be using two different plugins for the full search experience.
It's also worth noting that this is best described as a "behind the scenes" plugin, so don't expect it to have any options for visually improving the look, design, and style of your search bar and result layout.
Price
Relevanssi has free and paid options, with premium pricing starting at $120 for an annual multi-site subscription. 
SearchWP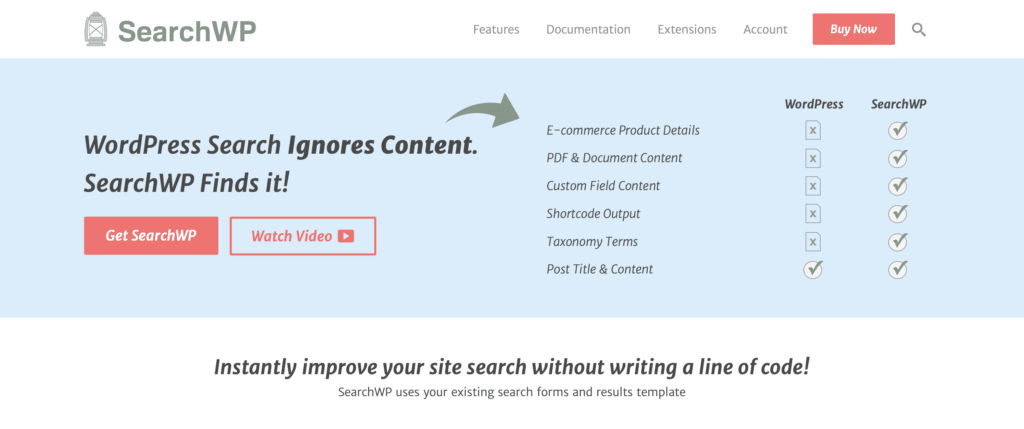 Search WP is a premium plugin that indexes your WordPress media library, so users can search for PDFs, office documents, rich/plain text and other content on your website.
Why choose SearchWP?
The plugin uses keyword stemming and partial word matching to give the most relevant search results where possible.
There are a lot of different ways you can search with Search WP, with visitors gaining the option to search from custom fields and post types to metadata and individual classifications. It also offers ecommerce integration and an analytics tool that displays user data statistics. 
What to keep in mind?
SearchWP lacks a crawler mode, which means all PDFs and documentation have to be uploaded to the WordPress Media library to be searchable by the plugin.
It also doesn't currently offer multi-site search, so each site within a network will be sandboxed to that site alone.
Price
Search WP offers a standard version for $99 annually. It also offers a pro version for $149 with added features such as WooCommerce integration and license for up to 5 sites — and a pro plus version for $299, that allows you to use the plugin on unlimited sites. 
Swiftype

Swiftype offers a fast search plugin for high-traffic websites.
Why choose Swiftype?
The plugin hosts your data and searches your documents on its own dedicated cloud server, which is useful if you handle lots of content pieces — and takes the pressure off your own site.
It also boasts automatic updates, so there's no need to manually input new data as any changes are logged automatically – with full synchronization to your search results. 
What to keep in mind?
Swiftype does have one major downside: it doesn't search your pages, only your posts. So, you're missing out on a significant quantity of pretty important data. Plus, the user keyword search can be inaccurate at times, so it's important to test your results carefully.
Price
The plugin is quite costly compared to other plugins with similar features, with their basic plan costing $79 per month and their pro version costing upwards of $199 per month. 
Site Search 360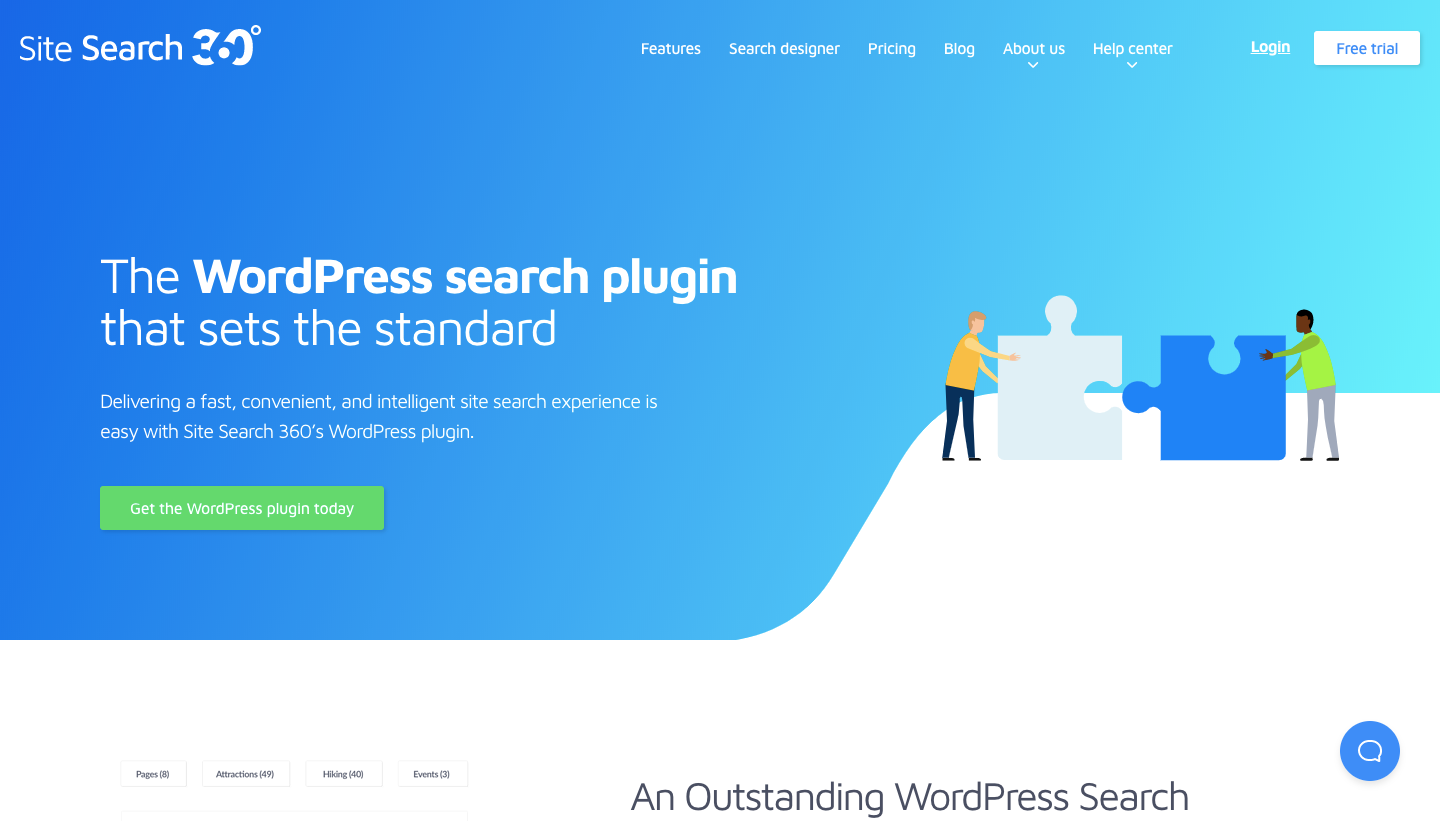 It'd be rude not to include our own WordPress search plugin on this list, for a few key reasons.
Why choose Site Search 360?
First off, Site Search 360 offers numerous customization options, so you can program your search to act however you want it to. The plugin is also fully compatible with the Site Search 360 designer tool, which has an abundance of configuration, style, and design choices — ensuring your website has a powerful, smart search that stands out from the crowd. The unique semantic search tool can guarantee your site's visitors find exactly what they're looking for — owing to it's synonym and hypernym recognition technology.
It's also fully mobile-ready, so you can rest easy knowing your search will perform regardless of what device your visitors use.
What to keep in mind?
There's a lot of features to explore, which can be overwhelming at first. It's worth setting aside some time to get familiar with the interface and find out what works best — so you can get the most out of the powerful tools that the plugin offers. 
Price
Site Search 360 offers a number of different pricing options.
The free plan is great for blogs and smaller websites. However, if your site is experiencing a bump in traffic then our $9 a month Columbo plan is perfect, as it offers more page indexing and queries — as well as regular crawling.
For growing websites, the popular Holmes plan has an abundance of features such as API access and document indexing for only $39/a month.
Finally, there's the flexible Batman plan for $99 a month — that's ideal for big businesses with large indexing and query requirements.
Choose the one that best suits your needs by comparing the features of our plans and pricing options.
The default search for WordPress simply isn't good enough. To maximize visitor engagement and ensure they find the content they're looking for, fast — an effective site search tool is essential.