A handy guide to your new control panel

Sarah Brochard
4 mins to read
We're excited to present Site Search 360's new control panel for a smoother user experience and improved search solutions.
Spotlight on usability and user-centered design
Welcome to your enhanced search experience!
Your new control panel showcases a more user-friendly interface with a compact navigation pane as well as new settings to help you better control your site search and easily implement smarter features.
Streamlined navigation structure: find the features you need faster with less clicking and scrolling thanks to clearly arranged menus and a more intuitive UI.
Better analytics: your dashboard now includes even more analytics, so you can easily take action and improve your search.
Additional features:

Result Manager offers improved result mappings and simplified custom results.
Data points are more flexible and easier to configure.
Smarter dictionary now supports lists of synonyms and hypernyms, instead of just pairs.
Search preview includes a search result configurator for testing and configuring your site search results directly in the control panel.
Crawling by URL and crawling by sitemap can now be used simultaneously.
Easier content extraction with CSS selectors instead of XPath - you only need to click on your name icon in the top right-hand corner of the screen and activate the 'Prefer CSS' toggle.
Smoother navigation for better control over your search results
The new Site Search 360 control panel is not just a pretty face, it offers a wealth of smart search functionalities available at your fingertips.
You can now navigate more easily between sections. The most important sections are displayed in the main menu on the left. Clicking on a menu item reveals subsections conveniently displayed as tabs in the top menu bar.
The complete layout is more intuitive, so that all available options are displayed more consistently and clearly for you to make the most of them. We've also reorganized and renamed some sections and settings to help you navigate the interface more efficiently.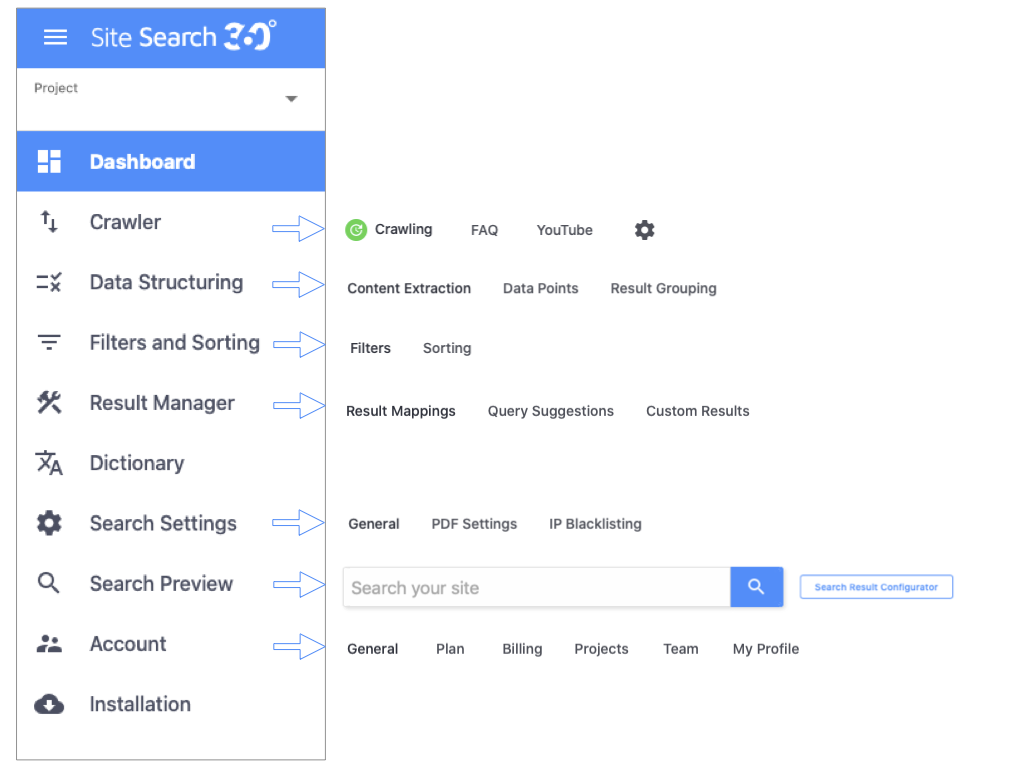 Let's take a deeper dive into the makeover of your control panel.
Then and now: a quick overview
In the old control panel, Indexing Control used to host several totally separate settings, including Crawler Settings, PDF Settings, FAQ Extraction, YouTube Indexing, Content Groups, and Index Control.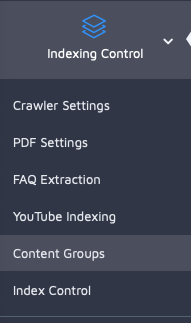 Now, there is a stand-alone Crawler section that includes these options:
Crawling: this is where you will find Root URL Crawling, Sitemap Crawling, and Black- and Whitelisting patterns. With the new control panel, you now have the possibility to combine sitemap crawling and crawling by URL to ensure all desired pages and documents get indexed.
When does this come in handy? When, for instance, PDF files on your website are not listed in your sitemap. Now you can use Root URL Crawling to locate the PDFs while indexing the rest of your site with quick and efficient sitemap crawling.
FAQ: here you can easily add your Frequently Asked Questions (FAQ) to your search.
YouTube: indexing your YouTube content enables your visitors to find relevant videos directly in their search results, keeping them more engaged with your brand across channels. YouTube content indexing is a premium feature which you can easily add on to your custom plan.
The clickable cogwheel icon gives you easy access to more advanced settings, such as authentification for password protected pages and indexing intensity.

What happened to Content Groups and Index Control?
We removed Index Control and replaced it with the straighforward Index. It is now displayed as a separate menu button so that you can more easily look up your indexed documents, re-index your entire site, empty your entire index, or remove multiple URLs from the index.
Meanwhile, content groups have been renamed result groups and are now found, alongside data points, under Data Structuring. This particular section neatly encompasses the following features:
Data Points (price, brand, date, availability, etc.) where you can search for existing data points or add new ones,
Result Grouping where you can create result groups, formerly called content groups, and choose in which order they are displayed.
Content Extraction where you will find the Title, Image and 'Content Extraction' settings,
Under Filters and Sorting, you have the Filters tab, where you can add or edit filters, and the Sorting tab, which allows you to sort results based on specific data points, such as price, availability, date added, etc. Data points have also been buffed up to cover text, number, date, and boolean (true/false) types.
After creating your data points, simply navigate from Sorting > Content Sorting Options > Add Sorting Options, as shown below.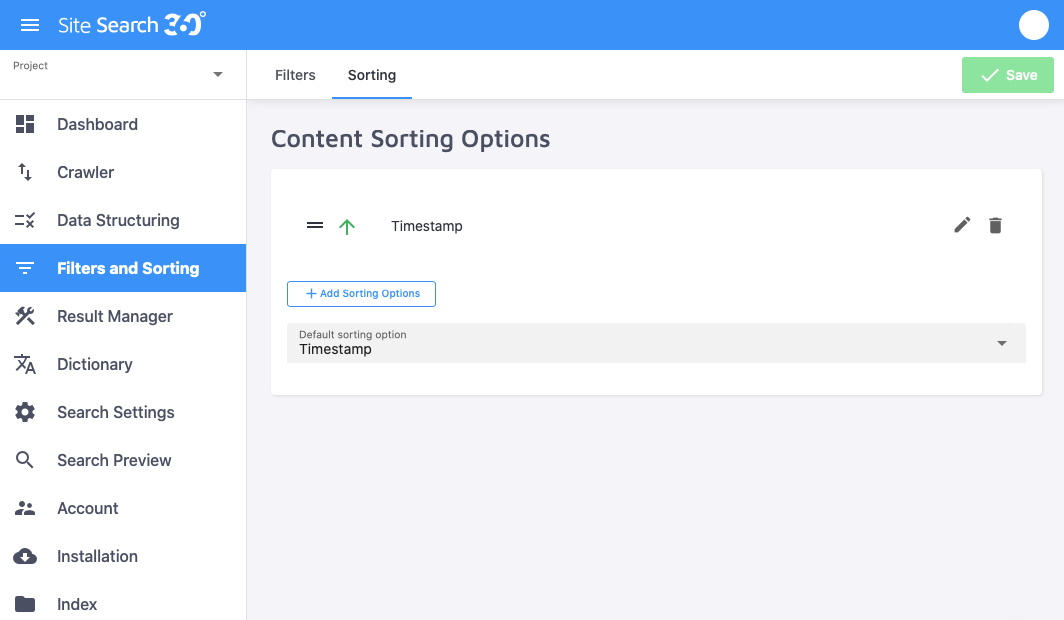 In the old control panel, the Search Control section included Search Settings, Smart 404, Query Mapping, and IP Blacklisting.
What happened to these core functionalities?
We simply promoted Search Settings to its own menu item to better assist you in customizing your search.
Under the General tab, you can easily adjust your content search with options like Search Fuzziness, Search Snippet Source, Query Limits, and Page Boosting.
Two more tabs also appear here:
PDF Settings which help you apply strategies to better index your PDF titles, content, or pictures,
IP Blacklisting
Query mappings have been renamed result mappings and are now part of the Result Manager tool.
Great news! You can now easily re-order your search results under the All Results tab -- all you need to do is create a mapping.
How? Simply click on the Result Mappings tab, click the 'New result mapping' button, select a match type, then set the action to Result Set. Now you can drag-and-drop and pin/unpin the result cards as desired.
In addition, you can promote any result to the top of your results list, pint it in any position, or hide it entirely.
Want to insert a custom result? Easy as pie! You only need to click on the green plus (+) icon. You can also set an active date range if this mapping should be limited to a certain time frame.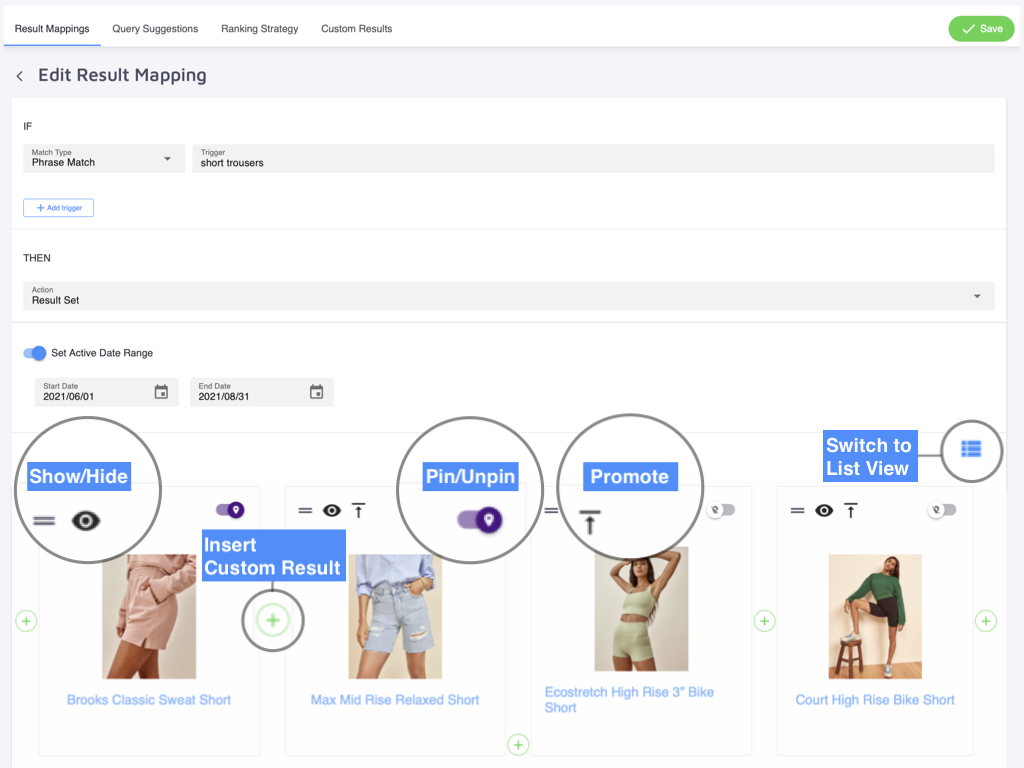 Once created, readily edit, disable or delete your existing result mappings as desired.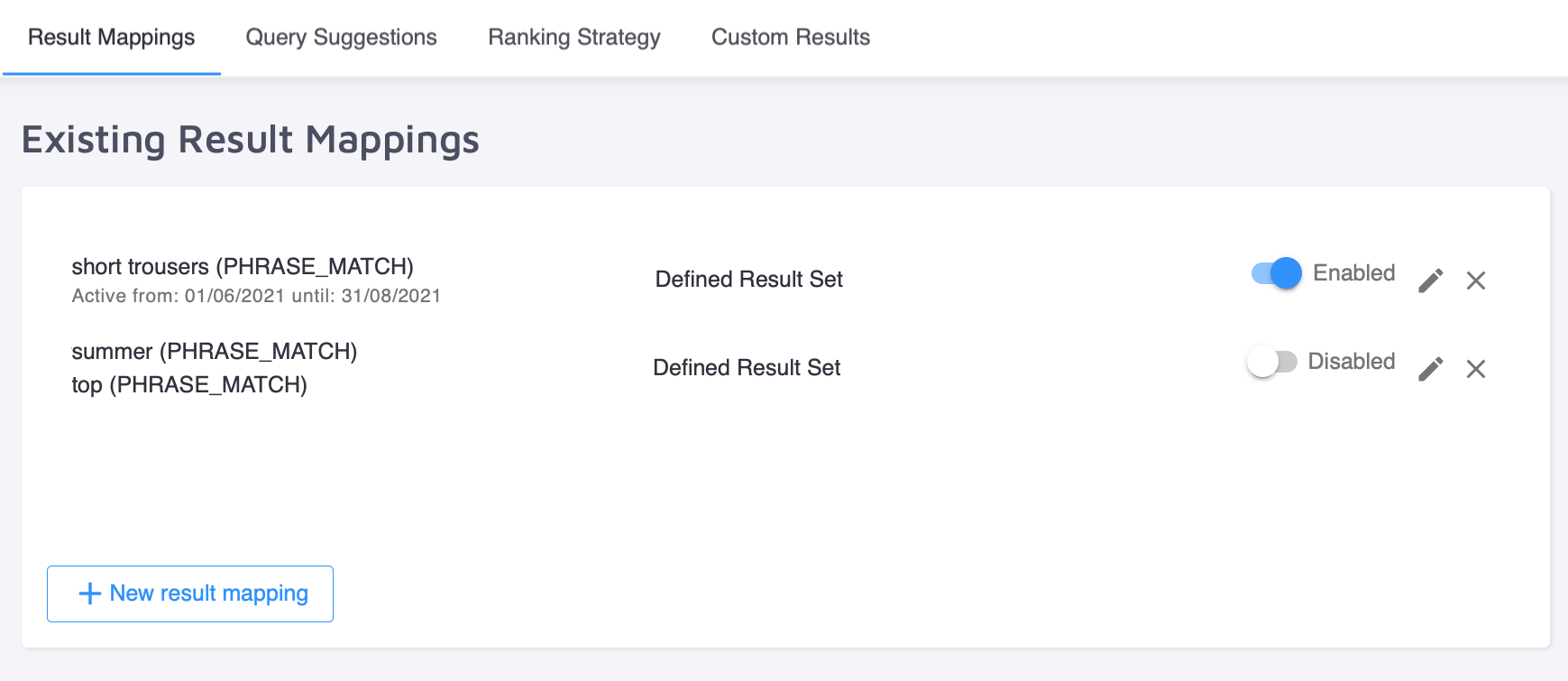 You can automatically suggest popular queries or manually add your own search suggestions by interacting with the Query Suggestions tab.
The Custom Results tab makes it much simpler for you to find, edit, or add custom results to your library. The icing on the cake: you can now reuse the same result set in multiple mappings!
When clicking on 'Add new custom result', you simply need to fill out the result name field -- so that you can refer to it internally -- along with the title, image URL, link, and snippet fields.
The improved Dictionary tool still helps you to semantically enrich your content so that your searchers find what they are looking for, even if you do not have an exact match for the searched term. Grouped hynonyms/hypernyms are no longer limited to pairs.
Get ready to explore Dictionary Entries, Test Dictionary and Import/Export Dictionary to make the most of these smart and easy-to-implement features.
Overall, your new control panel provides you with a better overview of your search attributes and improved usability so you can take advantage of as many of its valuable functionalities as you need.
Improved UX
We've enhanced your user experience by adding a Search Preview section that lets you search your site directly from the control panel. In addition, you have the possibility to test and configure search results at once with the Search Result Configurator.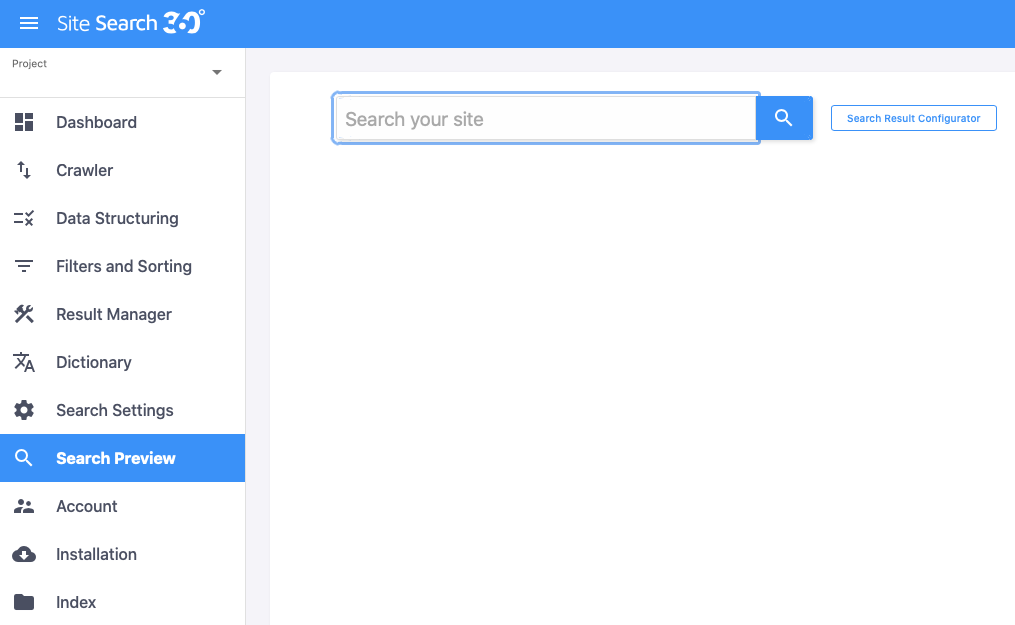 You can still access all information related to your Account under this aptly named section.
Want to upgrade or customize your current plan?
The Plan tab gives you a clear and detailed overview of all available features and matching plan options. You will also find tabs to view your Billing, Projects, Team, and Profile.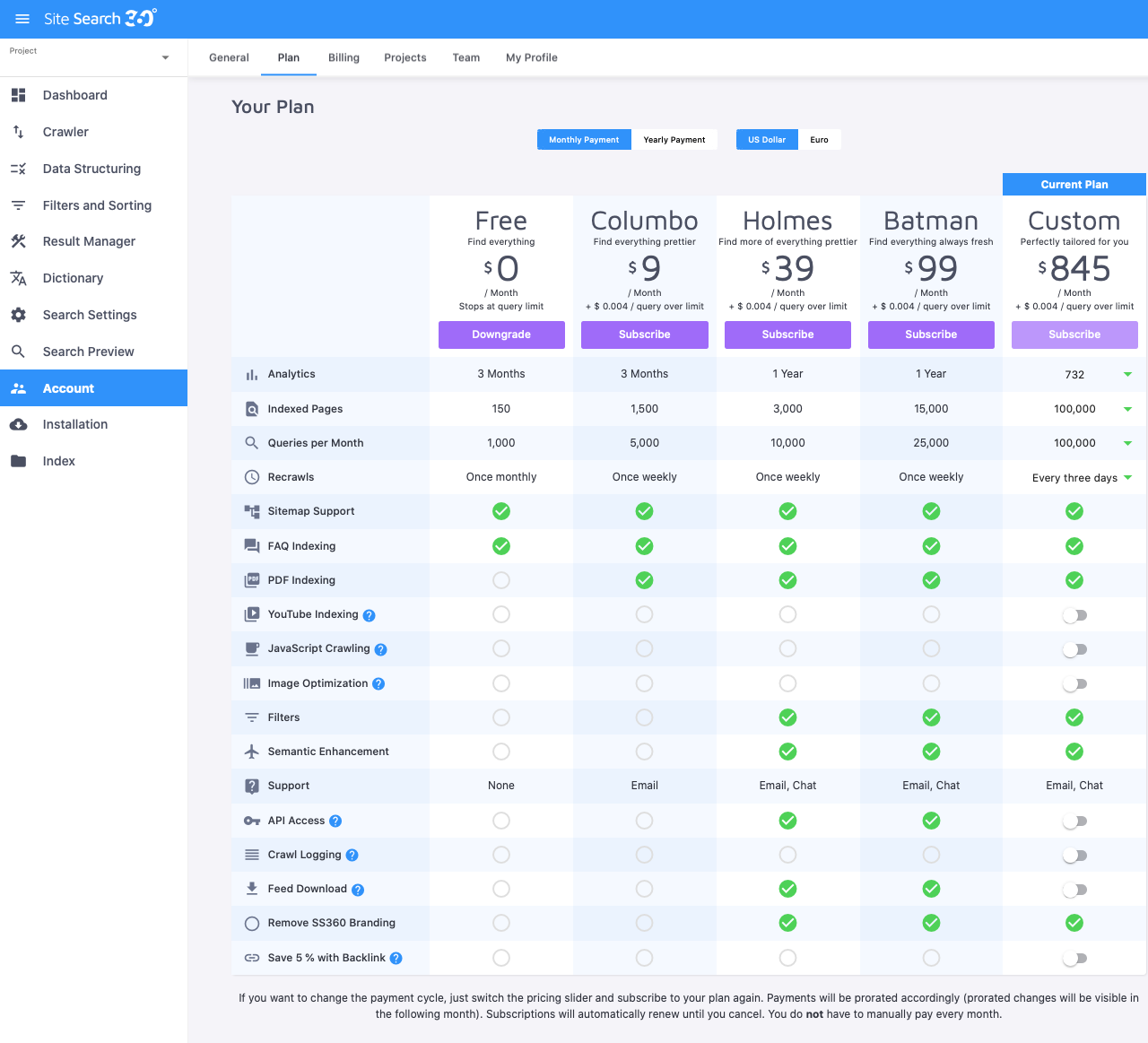 Installation still provides you with useful guidelines for setting up your site search and seamlessly integrating it into your website(s).
Better analytics
Your new Dashboard offers a more efficient outline of the key peformance indicators (KPIs) for your site search.
Get a glimpse of your Popular Queries, Popular Results, and Frequent Zero Result Queries so you can tailor your search to better respond to your searchers' needs. You also benefit from new search suggestion analytics.
Sort your Frequent Queries by query, searches, unique searches, results, CTR (Click-Through-Rate), and export them.
With our sleek makeover, we made it easier for you to navigate between menu items, see all features at a glance, and take full control of your Site Search 360.
Haven't switched yet? You might be missing out on Site Search 360's new features. Just log in to your control panel to check the latest improvements and when the new interface message pops up, click on 'Let's do it!'
Our support team is here to help you. Get a free test account in the new control panel today.
Interested in knowing more about our amazing site search solutions? Check us out or feel free to reach out for more information.
If you like what we do, join us on Twitter , LinkedIn , and Facebook .